Academy of Art University existed because of creativity and innovation. It was established since 1929 by Richard S. Stephens, art director for Sunset Magazine. He founded Academie of Advertising Art along with his wife Ciara Stephens at 215 Kearny St, San Francisco, CA 94104, USA with a pilot of 45 students. On 1946, the academy moved to 740 Taylor Street with 250 students. They also launched fresh courses in advertising, fashion illustration, cartooning, layout and lettering as well as commercial art. On 1971, the academy offered its first graduate program and offered a Master of Fine Arts degree. Over the years, they have acquired several accreditation such as from NASAD (National Association of Schools of Arts and Design). Currently it is being led by Dr. Elisa Stephens, the granddaughter of the school's founder. She helped the academy become more digital and shifted to a much more sustainable practices. Currently, the University is the largest private school of art and design in the country.
Here are some of the quick facts about the academy:
They have been offering an innovative online arts education since 2002.
They have hold 70 student and alumni art shows and gallery exhibitions in San Francisco area each year.
The university has been represented by students over 112 countries.
There are 17 housing facilities all over San Francisco where students can thrive.
The academy has 16 fierce intercollegiate teams for the NCAA sports program.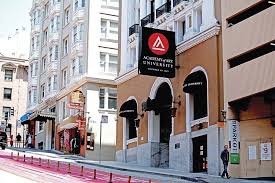 Apart from that, they were the first university that has been invited to showcase student work at New York Fashion Week held biannually. Also, the academy's athletics became the first ever program in the history of the NCAA to bag the National Championship (Women's Track & Field) in its first year of eligibility. The university also boast notable alumni such as Deanne Fitzmaurice who won Pulitzer Prize in 2005 for her photo essay on an Iraqi child' warn torn experiences as well as Cristina Palomo Nelson who is the co-founder of Freda Salvadore, a popular shoe label.