This has been a very challenging year for everyone. Back when everything was normal, if we are craving for a nice slice of pizza or our favorite milk tea, we would just go out and buy it whenever we like. The problem, nowadays, is that people are more cautious in going out of their homes, most restaurants and food businesses are closed, and some already lost their jobs due to this pandemic.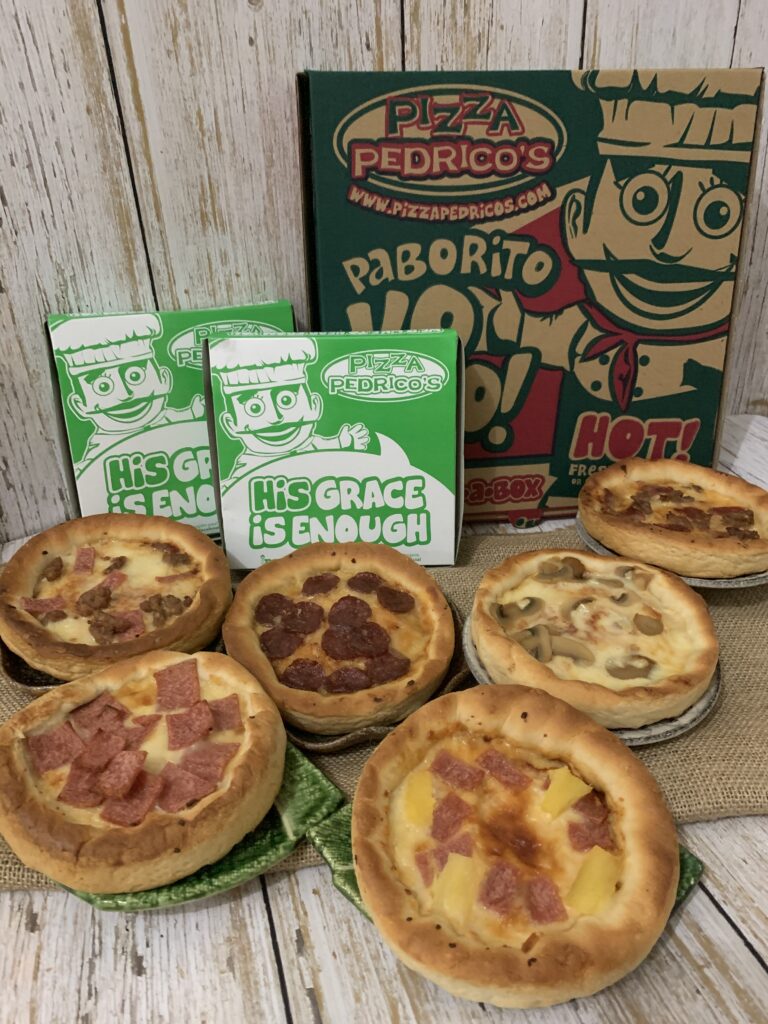 Recently, I discovered Pizza Pedrico's, a pizza brand recognized as one of the Top 13 Brands in the Entrepreneur Magazine Franchise Hall of Fame, is now bringing savory and yummy pizza paborito flavors at the comforts of your home and community. Pizza Pedrico's is one of the most recognizable pizza brands in the Philippines for introducing its signature 4Pizza-in-a-Box concept and having more than 1300 serving stations nationwide.
Pizza Pedrico's recently launched "PIZZA PEDRICO'S CLUB PABORITO" Community Dealership Program as a way to satisfy the pizza cravings of their customers while at the safety of their homes and communities and provide an opportunity for entrepreneurs and negosyantes nationwide an additional source of income.
The frozen-fresh pizza is delicately made with the freshest and most premium ingredients. It's inspected numerous times to ensure quality and is delivered safely in the comforts of your home. I tried different paborito flavors namely Cheez and Cheez, Ham and Cheez, Chorizo and Cheez, Ham + Sausage and Cheez, Ham + Pineapple and Cheez, Sausage + Pepperoni and Cheez and Garlic Mushroom Melt. What I like about it is that it's 100% cheesier! The actual cheese melts as you toast or bake it in the oven. The crust is not too hard and soft enough to chew. The toppings are fresh and it just gives a savory flavor. It's definitely an ACE for me! Affordable na, masarap pa!
I have noticed that this program opens a lot of opportunities, especially to young mompreneurs and aspiring young entrepreneurs. Through the PIZZA PEDRICO'S CLUB PABORITO, not only that they can enjoy the affordable and tasty pizza selections but also earn additional income for their families. It is open to all qualified individuals/groups who want to be part of the OFFICIAL CLUB PABORITO DEALER COMMUNITY. Apart from the affordable price points, it showcases the FRESHNESS, QUALITY, and EASY PREPARATION of their pizza. EASY TAKE & BAKE PIZZA PABORITO at the comforts of your home. It is surely my PIZZA PABORITO at PABORITO NG LAHAT!
It's super easy to become a Club Paborito Dealer. Start Your PIZZA PEDRICO'S CLUB PABORITO Community Dealership for Only P5,000 + Freezer! Just follow the step-by-step guidelines below:
Accomplish the Membership Application Form;
Photo(s) of your 11 cuft and above Storage Freezer; and
Avail of our Pizza Pedrico's Club Paborito Starter Set.
Sign on the Memorandum of Agreement
Choose from these best-selling Pizza Paborito flavors: Ham+Pineapple and Cheez, Ham and Cheez, Cheez and Cheez, or Sausage+Pepperoni and Cheez. You're not only satisfying yourself and your family, but you are also satisfying the people in your community! So, what are you waiting for? SIGN-UP NOW! This is surely an opportunity you wouldn't want to miss!
SIGN-UP thru this link [bit.ly/3hbnAoZ] and a Club Paborito Representative will contact you as soon as possible.
For your Paborito Pizza business opportunity, you may reach them thru these hotlines: Manila [02] 8442-9444; Cebu [032] 520-8811; Davao [082] 295-7943 or 0925-511-9444 for mobile users. Be sure to follow them on their social media pages for your Paborito updates: Facebook [facebook.com/PizzaPedricosOfficial], Instagram [@pizzapedricos], and Twitter [@PizzaPedricos].

#PaboritoKoTo
#PizzaPedricos
#PizzaPedricosClubPaborito