IFEX Philippines, the signature event for the food trade sector organized by the Center for International Trade Expositions and Missions, (CITEM) will present its very first online iteration, the IFEX Digital Expo, on September 23-25, 2021.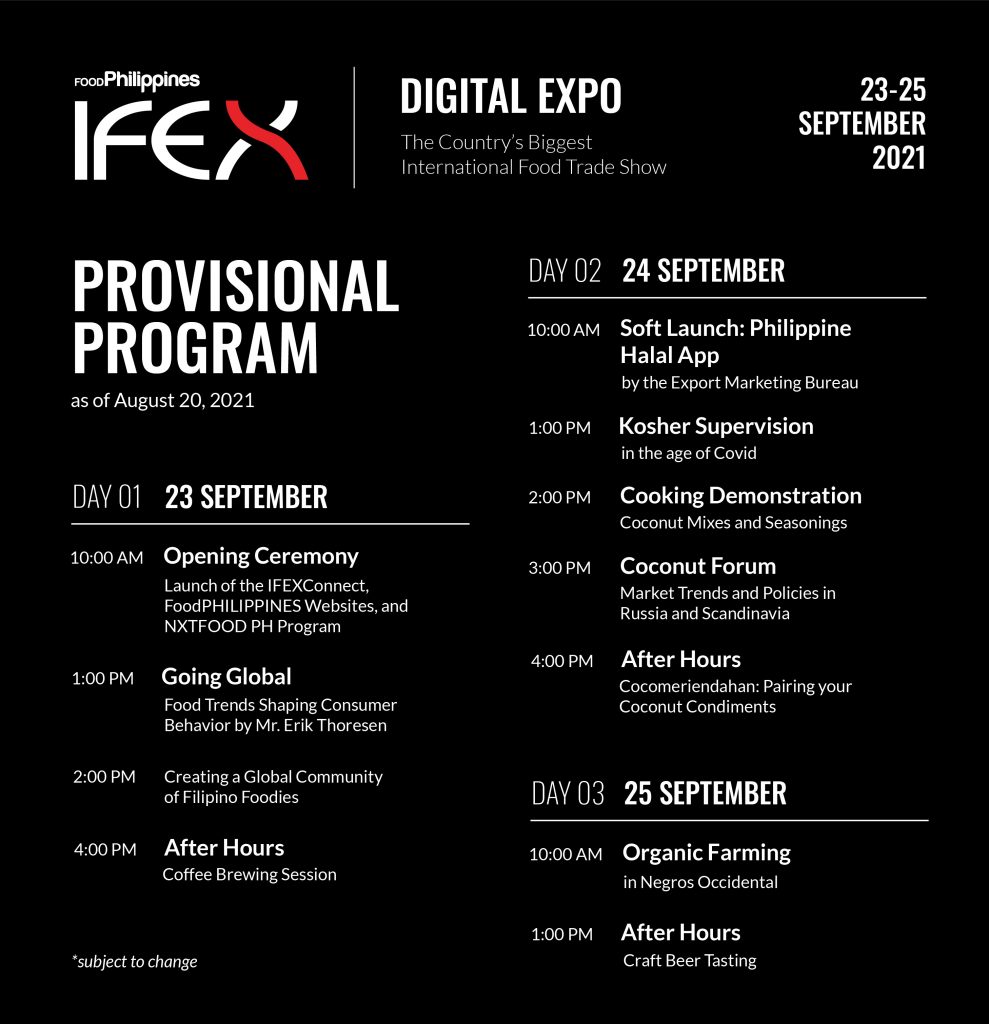 The Center for International Trade Expositions and Missions (CITEM) is the Department of Trade and Industry's (DTI) export promotions arm committed to nurturing the global competitiveness of Philippine micro, small, and medium scale enterprises (MSMEs), exporters, designers, and manufacturers. The agency aspires toward the highest standards of creativity and innovation, and spanning industries including home, fashion, lifestyle, and food sectors.
CITEM organized the International Food Exhibition (IFEX) Philippines, a homegrown platform for the country's food sector and the country's biggest and most respected business-to-business (B2B) event for Asian food and ingredients. The export promotions agency is also in the thick of preparations for the digital iteration of IFEX Philippines, the IFEX Digital Expo. From expos, workshops, business-matching, and networking sessions, the IFEX Digital Expo will have food-intensive activities suited to the taste of anyone who's in the business and culture of food.
The event will continue its mandate of promoting Philippine food champions geared towards showcasing a wide array of diverse food products and ingredients that are uniquely Filipino.
Hosted on the Hopin online event platform, the IFEX Digital Expo will feature a Main Stage that will showcase a program on the latest developments and innovations in the food industry. Simultaneously, there will be breakout sessions on the platform where participants can explore segment-specific topics, discussions and other featured content. The platform  also  has an automated matching feature  where users can meet and build their network within the community. The Expo feature on Hopin, on the other hand, is available for those who want to explore business support organizations, food brands, and export enablers.
"As we continue and grow our efforts to provide a comprehensive and unique trade show experience for all our stakeholders, we want to make sure that CITEM delivers the best service at every touchpoint whether it be for on-site, hybrid, or fully digital events," said Pauline Suaco-Juan, Executive Director of CITEM.
CITEM has been moving towards the digitalization of its initiatives to adapt to the dynamic needs of the global food community. Aside from the digital expo, the event will also mark the public launch of the new promotions website, foodphilippines.com and the new lead generation platform, ifexconnect.com. IFEXConnect.com is a promotions and lead generation platform with business functionalities catered toward the needs of food exhibitors and buyers alike.The business-intensive portal is envisioned to be a sourcing platform that features digital storefronts of Philippine food exporters. Ready to serve the global market, IFEXConnect also has a business-matching facility to ensure access to and discoverability of well-loved Pinoy food products.
Two new websites for the food community
FOODPhilippines.com, a website synonymous to the banner brand for all of CITEM's food events and initiatives for the Philippine food sector, will feature stories about Philippine ingredients, flavors, processes and techniques, recipes, heritage, culinary talents and regional specialties. These stories will be strategically developed and promoted to build interest and start conversations about Philippine food products. FOODPhilippines.com is an interactive community platform with stories celebrating and promoting Philippine food. The platform is replete with narratives on food heritage, culinary personalities, and well-loved recipes as well as innovative takes on Pinoy food.
Meanwhile, IFEXConnect.com is the agency's new promotion and lead generation platform for the country's food export industry. It will house the digital storefronts of top Philippine food manufacturers and suppliers and showcase their product offerings. The platform, available 24/7 year-round, will also allow buyers from all over the world to directly connect with local companies they wish to have business with.
"IFEXConnect.com is envisioned to be a sourcing platform that features digital storefronts of our food exporters and showcases their top-line products. Ready to serve the global market, IFEXConnect.com also has a business-matching facility to connect our exhibitors with international buyers much easier," adds Rowena Mendoza, OIC Head of CITEM's Operations Group for the Food Sector.
Other features of the platform include a space for digital events that focus on industry insights, best practices, and new market demands, exclusively for registered users.
To help exhibitors maximize the potential of IFEXConnect.com, CITEM is also running content amelioration programs to assist MSME's in the production of product photos and brand copies meant to optimize both the user experience and their searchability online. This program started with a pilot batch of 100 MSMEs with top food stylist Chichi Tullao and food photographer Justin de Jesus helping in the production.
For all these efforts, CITEM enlisted the expertise of premier storytellers in the food industry: Joey Ong, advertising veteran and Managing Director/Executive Creative Director of Dojo as Chief Storyteller, and Angelo Comsti, chef, food writer, and author of the bestselling cookbooks, From our Table to Yours and Also Filipino, as Editor-in-Chief of the two platforms.
"CITEM, works hand in hand with these food luminaries along with ODV Creative who offered strategic support for content production and event management, and UM Philippines for web development. We are proud to have built a homegrown website and we look forward to building a community that will let the world savor the best of Philippine food," added Suaco-Juan.
Food companies and buyers are encouraged to register and be the first to experience the shift to digital. Application for the initial batch of exhibitors is until August 25, 2021.
Link to Exhibitor Registration: https://www.ifexconnect.com/pre-registration/exhibitor
Link to Buyer Registration: https://www.ifexconnect.com/pre-registration/buyer