The Christmas season reminds us to be joyous and grateful, and Lumina Homes is thankful to the 1 million people who have liked its Facebook page. 
Even before the pandemic, social media—taking the good with the bad—has been helping Lumina become the most innovative real estate brand for the digitally savvy Filipino.
As promised, Lumina gave away exciting prizes as soon as it reached its 1,000,000 milestone. The lucky raffle draw winners were Stella Velasco who received an iPhone 13 (1st prize), Leigh Placio (Android Tablet, 2nd prize), and Lhai Reales (TWS earbuds, 3rd prize).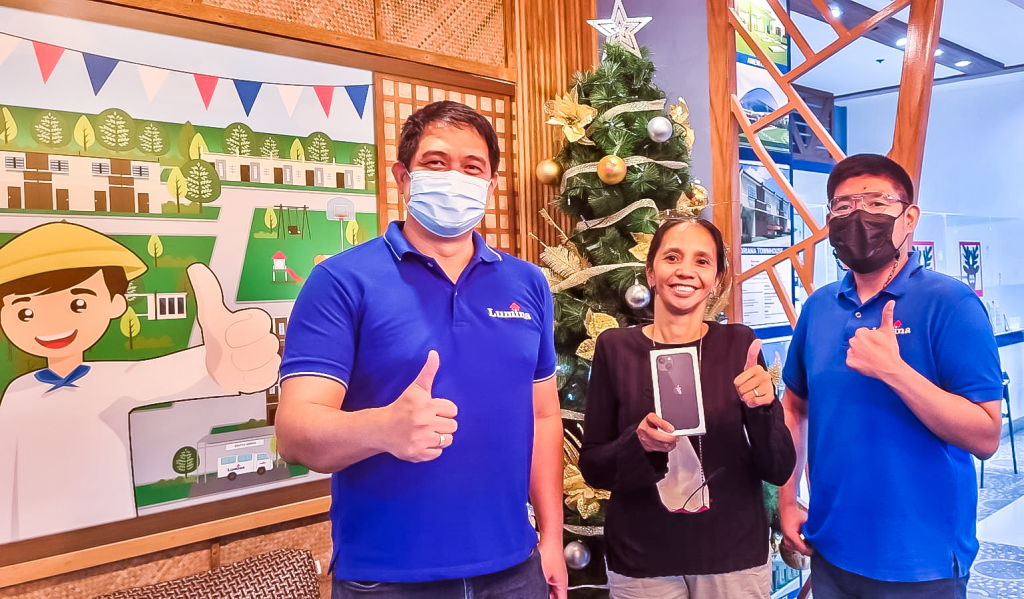 Keep visiting Lumina's official Facebook page and watch out exciting announcements, no-nonsense and informative posts, and latest promos and deals regarding your dream house and lot.
'Kapag 5 p.m. na, Juan Hour na!'
Welcome the new (normal) habit, every-Juan! Every Wednesday at around 5 p.m., Lumina's kabarangays can win P1,000 AllEasy Load. All they have to do is just watch and like the featured social media account during Juan Hour! Learn more about real estate business, Lumina Homes as a company, and the step-by-step process on becoming a Lumina Homes owner.

Here are other helpful features from Lumina's Facebook page:
Make home reservations through Facebook shopping cart
Chat with a Lumina Representative 24/7 for various inquiries, such as how to avail of a Lumina house and lot
Learn about payment guides (like new payment channels and online bank partners how-tos) and exclusive deals for discounts (like Piso Deals via Shopeepay)
Hiring or career announcements
The Facebook page channels news and important content from the official website, thus followers and homeseekers can expect more project launches and unboxing of bigger and better Lumina spaces on one single app.
For more information, visit https://www.lumina.com.ph/ or contact 0917-629- 6523.