In a game of tennis, the only time you want to hear the word 'love' is when the game begins or refers to your opponent's score. In any other tennis context, this normally positive word in the English language means you need to find your motor skills quickly and knock it off with the double faults.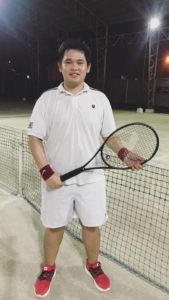 It may sound a little odd to use the word when describing the care you should give a tennis racquet, but it's not too far from the truth. Your racquet can be among the biggest costs, that you will incur as a tennis enthusiast and can easily be damaged. That is also true even if you're using a beginners racquet.
So without further ado, here are a handful of rules you need to follow to ensure it lasts a long time and serves you well while you try to serve in bounds.
1. Don't Expose Your Racquet to Excessive Heat
The inside of an enclosed car or an asphalt surface on a hot summer day are both hot enough to do plenty of damage to graphite and composite racquet bodies, which can distort at relatively low temperatures. Many companies provide racquet bags with heat-resistant linings that hold multiple racquets and protect them from these conditions. If you don't have such a bag, then at least take the racquet to your desk or office or someplace
where it won't be exposed to so much heat.
2. Thou Shalt Not Expose Thy Racquet to Excessive Moisture
Moisture damage, like heat damage, is another common way tennis racquets get trashed. Don't put your racquet into a locker or gym bag full of sweaty clothes. Keep them away from drink bottles or other water containers. If you use natural gut strings you also have to avoid humidity and rain. The best way to avoid moisture damage is also the best way to avoid heat damage: with a protective racquet bag. Just as many bags have heat-resistant linings, many also have linings to protect racquets from moisture.
3. Don't Do Stupid Things With Your Racquet
A racquet is pretty good for hitting tennis balls, but not much else. Using it as a pry bar, hammer or to carry heavy objects is not a good idea. You should also avoid storing it at the bottom of a stack of heavy items or in a car trunk full of loose heavy items like the common household or automotive tools.
4. Stay Within the Manufacturer's Specified String Tension Range
Racquet manufacturers, which have the benefit of laboratories, test facilities and numerous scientists and in-house experts are pretty good at determining what range of tension a racquet should be strung at. Most tennis players do not have the benefit of such facilities or experts. If you do not string your racquet within the proper tension range, then at the very best, it will perform badly and at the very worst, you will damage it. Although you kept the receipt, your warranty-voiding shenanigans means you are on your own getting a replacement as your request for a refund or exchange will fall on deaf ears.
5. Replace The Grip When It Becomes Worn
One of the least expensive and quickest repairs you can make is to replace the grip when it wears down. The last thing you need is to have your racquet slide around in your hand and cause blisters or your arm absorb the brunt of vibration from hitting the ball because there's no cushion left on the grip.
Taking care of your racquet is not very difficult to do. A little effort and an average amount of intelligence will go a long way in extending the life of your tennis racquet.