New Bombay Royale had its official grand opening day last June 3, 2017 at Grand Venice Piazza Mall in McKinley Hill, Taguig City. It was attended by friends, distinguished guests and other patrons.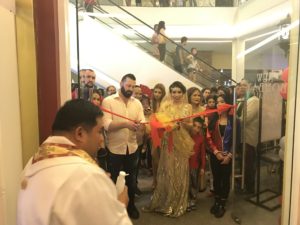 The grand opening started with the ribbon cutting followed by the blessing of the establishment. It was a dream opening as it was fully packed last Saturday. Guests were treated with an Indian buffet.
Here are some of the food they served during the grand opening:
I started off with Vegetable Samosa. It's one of the most basic appetizers in an Indian restaurant. I paired the samosa with mint and tamarind chutney.
Next one was Chicken Tikka Masala. I paired it with Cheese Naan.What I like about this dish is that you can eat the sauce alone. It's best if you put it in biryani or inside a folded naan.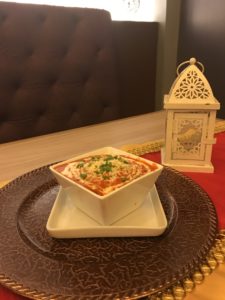 For vegetarians, they will certainly love Paneer Kadai. It is made with freshly pounded coriander seeds, red chilies and other secret spices. It is best paired with Cheese Naan.
Mutton Biryani is also one of my favorites during the dinner. I also tried their Vegetable Biryani which vegans would really love.
For the dessert, I tried their Gajar Ka Halwa or simply Carrot Halwa. It is made from fresh carrots, milk, sugar, ghee, cashew nuts and cardamom.
Just a reminder for everyone. You can always select the level of spiciness of each dish. Mild, Medium or Most Spicy. I like it medium.
While the guests were experiencing a rich Indian gastronomic experience, a string of belly dancing performances were showcased by the New Bombay Royale Belly Dancing team. The patrons where also serenaded by an Indian singer cementing the overall Bollywood like experience.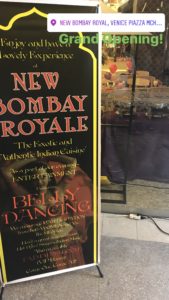 The Taj Mahal room can be booked for corporate events or any special occasions. It has a flat screen TV and a long table that caters to 10 people. In the future, comfy couches will be included. I also like their interiors especially the chandeliers and wall paper.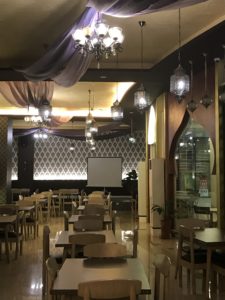 It was a fun day! A photo booth was also set-up outside the restaurant for the personalized ref magnet photos that serves as the official souvenir of the event. It is one place I will always go back to with my friends.
New Bombay Royale is located at Ground Floor, Venice Grand Canal Mall, McKinley Hill, Taguig City. They are open everyday from 11:00 AM – 10:00 PM. You may contact them at  +390664015985.
The verdict: It's a HIT!
The Tennis Foodie's favorite: Gajar Ka Halwa, Chicken Tikka Masala, Cheese Naan