Carlos Garcia is one of the most sought after chef in the Philippines. He partnered with Anton and Berna Garriz as well as Trish MacDonald in bringing The Pig Pen in Makati. It had its soft opening last June 7, 2017. It's one of the few restaurants I waited to open since I love European cuisine. The Pig Pen serves a gastronomic fusion of Asian and European cuisines from basic ingredients like chicken or pork with right amount of twist.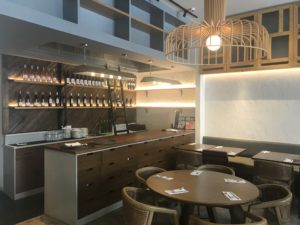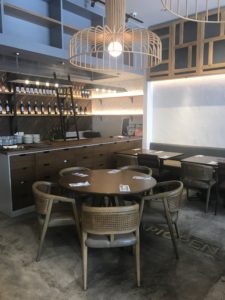 I had the privilege of trying some of their best sellers in menu:
I started off with the breakfast items. I love bacon so I chose The Pig Pen Breakfast. Who doesn't love bacon in the morning? It is composed of fried egg, uber crispy bacon strips, longganisa, masala baked beans, mushrooms and tomatoes. I paired it with Calamansi Garlic Rice. It gives a little Asian kick to it.
I also had Pumpkin Soup as my appetizer. I must say, it was very hearty and very healthy soup. I love how the vivid mustard yellow color pops in contrast with the bacon bits.
European Salad was my source of fiber during my lunch. It features fresh greens with Mediterranean mix of black olives, feta, cherry tomatoes, croutons, pickled cucumber, grated Parmesan cheese, radish and honey mustard vinaigrette. One thing I like about The Pig Pen is that they have a non-organic and organic selections on salad. I had organic European Salad on this instance. It was not too overwhelming. It was well balanced and well spiced. I love how different colors marry in one bowl. It made the salad less boring to eat.
Pulled Pork Cannelloni had to be my most favorite item in the menu. It was very interesting to eat pulled pork inside a pasta. It was well cooked and I love the presentation for this dish. It was indeed yummy!
Blueberry Pomegranate with Basil was my refreshment. Just a word of caution. Make sure to drink it fast as it tends to be bitter after a long time. None the less, I love the balanced between blueberry and pomegranate. Refreshing indeed!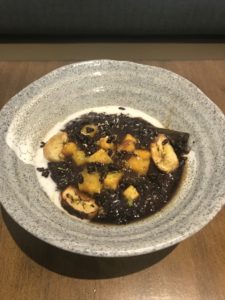 As they say, always leave some space for dessert. I absolutely love Black Rice with Mango. It's not your traditional suman-like dessert. At each spoonful, a subtle palette will eventually be transformed with a sweet spiced mango taste. It's a genius dessert! I'll definitely go back for this!
ACES: The Pig Pen Breakfast, Pumpkin Soup, Pulled Pork Cannelloni, Black Rice with Mango
MISSES: N/A
HITS: European Salad, Calamansi Garlic Rice, Blueberry Pomegranate with Basil
Overall, I really love the Asian-European fusion food served at The Pig Pen. Apart from the great ambiance, they have friendly staff to assist you during your visit. I really appreciate their suggestions especially for first time diners. This is The Tennis Foodie Approved!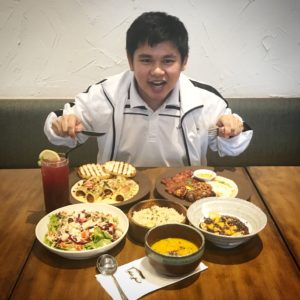 The Pig Pen is located at G/F Eton Tower Makati, Legazpi Village, Makati, Philippines. You may contact them at +632-817-8174 (telephone) and 09171576469 (mobile). They are open from 10 AM to 12 MN (Monday to Saturday).
For more gastronomic choices, you may opt to visit their official website at www.pigpenph.com. Alternatively, you may check their official social media accounts for any promos or updates:
Instagram: pigpen.ph
Facebook: pigpenph