Senyor Juan is currently being operated by Juan Aerufe International Corporation. It is the same company who operates Juan Cloud IT Business Solutions, who handles major brands nationwide and abroad in terms of Online Digital Marketing, Enterprise Resource Planning System Software, Search Engine Optimization Services, Website Development, and other cloud-based system and software. The systems and software mentioned are now used by Senyor Juan to ensure that every franchisee or store owners that its operation will run smoothly without discrepancy or manipulation.
I happened to visit the Mall of Asia branch in Pasay City. So what exactly does Senyor Juan has to offer? It's Suman Latik or Suman sa Lihia. They have two major "Suman" categories: (1) Espesyal and (2) Fried Suman Latik. I tried all of the variants under each category. Here's my honest assessment on each:
My favorite among the Espesyal category would be Espesyal Ube Macapuno Suman Latik and Espesyal Mangga Suman Latik. Both have traditional sweet flavors with additional Filipino fun flavors. I love mangoes and it gives additional sweetness to your suman. The ube and macapuno gives that refreshing touch to your suman. You're like eating a halo-halo along with your suman. The Espesyal Leche Flan Suman Latik was also good but the leche flan itself was too sweet. It was balanced by the saltiness of the ground peanuts. I would gave the first two ACES while Espesyal Leche Flan Suman Latik got a HIT.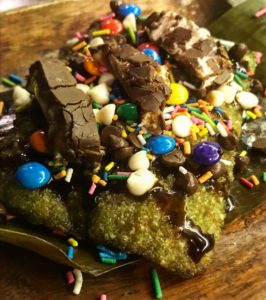 Under the Fried category, I love them both especially the Fried Cheese Suman Latik. I really love the crispy yet not oily texture of each fried suman. Definitely an ACE for me!
Apart from these mouth-watering desserts, they also have hot and cold beverages that is best paired with their award winning suman.
I love the Hot Chocolate by Senyor Juan and as well as Iced Cold Barako Coffee. The rest got a passing mark to me.
I would really recommend it to my friends and family. It's the perfect and the most affordable pasalubong! I think one advantage of Senyor Juan is the presentation of their suman latik as well as the affordability of the items in their menu. You may visit any of Senyor Juan's branches nationwide.
I would also like to thank their hospitable and friendly staff. Thank you mga ate! 🙂
Alternatively, you may contact them at their official social media accounts:
Facebook: SenyorJuan.ph
Instagram: senyorjuan.ph
Twitter: SenyorJuan_ph
Website: http://senyorjuan.ph/