Bingsu has been one of my favorite desserts especially during summer time. It's a very popular dessert often composed of finely shaved ice, sweetened condensed milk, syrups, cereal flakes and various seasonal fruits such as mangoes, strawberries, kiwifruit, and bananas. It originated from Korea.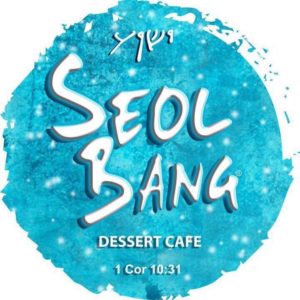 I discovered a new bingsu place in Venice Grand Canal Mall where you can do "Seol Sharing" with your friends and family. Seol Bang Dessert Cafe, a family owned business, opened its doors officially last January 26, 2017. Managed by Shekinah Bangsil, the cafe offers original Bingsu recipes not limited to conventional ingredients. The menu features classic bingsu flavors with a twist. All ingredients are freshly sourced and homemade.
The dessert cafe is very well lighted and well ventilated. Once you come inside the restaurant, you'll feel the fun and chill vibe. The cafe also sports bright colors on its interiors making it livelier.
Here are some of the best selling items on their menu:
The Salted Caramel Cookie Bingsu is the first one I tried. I was really impressed on how it stayed cool for several minutes. The ice cream and the shaved ice did not melt for 30 minutes. This was big plus for me! It was rich with condensed milk, ground salted caramel cookie and almonds. It was topped with vanilla ice cream drizzled with caramel sauce.
The Strawberry Cheesecake Bingsu is my ultimate favorite among all the items in the menu. It features fresh strawberries and homemade cheesecake. It also has a generous serving of vanilla ice cream and whipped cream. It was garnished with fresh mint and some nuts.
For a healthier option, you can try Mango Granola Bingsu. Made from fresh mangoes and generous servings of granola, you'll surely be guilt free with this dessert!
For those who love sinful desserts, Mango Choco Banana Bingsu will be your perfect choice. It has fresh mangoes along with bananas and generous serving of whipped cream with chocolate syrup. It is also garnished with fresh mint that gives the refreshing kick to it.
The cafe also serves freshly brewed coffee. I tried their Caramel Macchiato which is best paired with Salted Caramel Cookie Bingsu.
Overall, I'm really happy with Seol Bang Dessert Cafe. The ambiance is nice and the desserts are superb. This will definitely be one of my hangout spots in the future!
Seol Bang Dessert Cafe is located at 2F Venice Grand Canal Mall, McKinley Hill, Taguig. They are open everyday from 11:00 AM – 11:00 PM. You may contact them at +639154610562.
You can reach them through their social media pages:
Facebook: Seol Bang Dessert Cafe
Instagram: seolbangph
The verdict: It's an ACE!
The Tennis Foodie's favorite: Salted Caramel Cookie Bingsu and Strawberry Cheesecake Bingsu