Burning calories has been on my mind since few weeks ago. I had made some changes with my diet and exercise regime. Let's face it, it's not enough to remove the unwanted fats and excess weight in your body. I'm starting to increase my exercise in the gym and my tennis matches per week but it really takes a lot of effort to sustain these activities. The thermogenic treatment at SvelT'i safely and effectively burns fat by increasing the body's metabolic process. It promotes relaxation and better sleep during rest hours, while energizing your body during the day. It is a convenient and alternative way to burn all those fats away!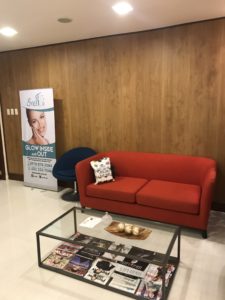 I had a privilege to try one session of thermogenic treatment at SvelT'i. In the clinic, they will first assess you and get your body measurements & vital statistics. It was surprisingly convenient and fun at the same time. You have an option to do read a book, sleep or even use your cellphone during the treatment. A nurse also assists during and after the treatment.
The thermogenic machine hastens the patient's metabolic rate thus expediting the fat reduction and weight loss. To see better results, a once a week session is recommended. The thermogenic treatment also improves the patient's cellular oxygenation, skin condition and blood circulation.
I really recommend this treatment. It's shedding the fats without any effort. Try it now at SvelT'i.
SvelT'i is located at 61 Timog Avenue Quezon City, Philippines 1100. You may contact them at 0918 878 3584. Their clinic is open from 9:00 AM – 6:00 PM from Monday to Saturday.
To know more about SvelT'i and their services, check out their official website: http://svelti.com.ph/
Alternatively, you may contact them through their official social media pages:
Instagram: svelti_ph
Facebook: sveltiph
Twitter: svelti_ph