Few weekends ago, I went to Maginhawa, Quezon City to finally visit Wadoughs. I got that nervous feeling yet I had that big smile in my face once I stepped in at the vicinity. I am a sweet tooth and I really love a good slice of cake especially on heyday.
During my visit, I tried the Pesto Walnut Grilled Chee as a starter. I just came from a tennis match and it's the perfect power booster.  I love how the cheese melts inside the sandwich and it has a spicy sauce on the side. Not bad for a starter. I'll give this a HIT.
I ordered a Matcha Latte and two slices of cake – Matcha (Green Tea) and Tablea Chocolate. Both have contrasting flavors and subtlety.I am a matcha fan and the Matcha Latte did not disappoint. I love how the barista from #TeamWadoughs prepared their latte. I got a rose art.
I paired the Matcha Latte with Matcha (Green Tea) Cake. It was the perfect combination but I have to admit, it can be very overwhelming to others. I think for me it's just the perfect taste. Both got an ACE for me.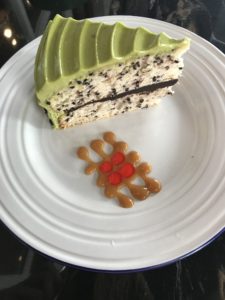 The Tablea Chocolate Cake is the picture perfect dessert for me that day. I can't stop staring at it and I felt it was really well plated. It was accented with cacao nibs that gave crunchiness to the delicate texture of the cake. Wouldn't you be enticed to eat it? It got an ACE for me.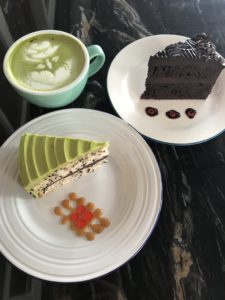 I'll definitely go back to check out other delicacies and unique creations from Chef Wado Tan Siman. Wadoughs really captured my heart and it's always a happy place for me.
Wadoughs is located at 154 Maginhawa Street, Diliman, Quezon City, Philippines 4301. They are open from 10 AM – 12 MN (Monday to Sunday). You may also contact them at 0998 575 5456.
You may check their official social media accounts for any promos or updates:
Instagram: wadoughs
Facebook: Wadoughs
Twitter: wadoughs