For the past seven weeks, I have changed my diet and discovered a very convenient way to eat healthy & nutritious food without the hassle of preparing it. I'm on my Week 8 (last week) with Lunchbox Diet. You'll be amazed by my results after 8 weeks with LBD.
Check out my previous progress below:
Week 1
Week 2
Week 3
Week 4
Week 5
Week 6
Week 7

Here's the menu for the last week:
Day 36: Wolf bite
This has to be my favorite this week. I personally love bacon and LBD did not disappoint. Bistro Bacon Salad with Pears had me at hello. I felt like it was a light under the tunnel. As the song Wolf Bite goes, "I wanna get my life right! Will you show me the way?" This salad really did show the way!
Day 37: We are never getting back together
I'm no longer craving for fatty and fried food. I said to myself that we (me and fatty food) will never getting back together – like EVER. Kidding! Maybe in the future but not now! I was quite surprise with the LBD's version of Beef Caldereta. I never knew a classic dish can be this healthy!
Day 38: When I see you smile
I felt I was really doing well this week. I kept on coming back to those fond memories where I can see myself competing at my best in the tennis court. And yes, the smaller shirt sizes! I was smiling the whole day because I know I'm in the right track.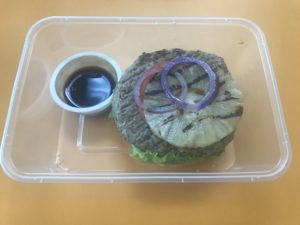 Day 39: Welcome to my life
I am finally embracing myself doing a full diet without rice for the rest of the year (even on cheat days). I personally liked Roasted Squash Pancakes for this day. I never knew squash can be fun on pancakes. It was so yummy!
Day 40: Too good at goodbyes
It was bittersweet. It's my last day at LBD (for now). I really can't believe it was two months. It sure was fast yet I felt the results. For this day, I really loved Chicken Arroz ala Cubana.
ACES: Bistro Bacon Salad with Pears, Light Lemon Garlic Spaghetti with Salmon, Vegetable Sticks with Hummus Dip, Beef Caldereta, Earl Grey Cookie, Banana Carrot Muffin, Roasted Squash Pancakes, Ground Pork & Shredded Vegetables with Peanut Sauce, Chicken Arroz ala Cubana
HITS: Pork Tenderloin with Chimichurri Sauce, Mixed Fruit Jelly, Tuna Sandwich, Baked Chicken Kababs with Sauteed Corn, Quorn Vietnamese Vermicelli Noodle Salad, Quorn Meat Free Eggplant Moussaka with Homemade Garlic Toast, LBD's Open-Faced Quorn Meat Free Hawaiian Burger, Chicken & Okra Curry, Blueberry Jelly, Mixed Nuts, Grilled Tofu Wraps, Tausi Fish Fillet + Caulirice
MISSES: Baked Plantain Fries (I wish there was less cinnamon flavor and crispier version but it was good)
During the whole duration of the program, I was able to lose 26 lbs (approx 12 kgs) for 8 weeks. Not bad from a foodie who loves to eat and dine out. It was really challenging. I really have to give up a lot of things such as sweets, soft drinks, junk foods and RICE! I had cheat days and I didn't deprived or starved myself. I always reward myself for accomplishing my goals for the week. For example, if I lose 2-3 lbs per week, I would treat myself with a good bar of dark chocolates or a medium sized bacon cheeseburger. It's all about portions, calories and physical activity. If I ate too much, I made sure I burn them in the gym or in the tennis court. I frequently go to the gym. Maybe 3-4 times a week then twice a week in the tennis court. LBD taught me discipline again. It's something I lost the last few months especially on fitness and food. I also learned how to manage my time better. I remember I was really lousy to go to the gym but now, I make sure I attend all my sessions. I even do weekends! It was just a matter of mindset and dedication.
Thank you Lunchbox Diet for giving me the opportunity to be at my best again. I'm really happy with the results and I would definitely recommend it to my friends and family. This is the best preparation for my comeback tournament  in Men's Singles next week. I would really like to thank all the staff, nutritionists and the personnel behind LBD. You guys made it possible in all your little ways. Again, thank you.
Lunchbox Diet is located at 100A Scout Lozano Street, Barangay Laging Handa, Quezon City, Philippines 1103. You may contact them at +63 2 372 9543 (telephone) and +63 917 809 3196 (mobile).
Alternatively, you may check their official social media accounts for any promos or updates:
Instagram: lunchboxdietph
Twitter: lunchboxdietph
Facebook: Lunchbox Diet