I'm a foodie and it's really difficult to lose weight when you have so many food tasting invites or parties to attend. With the fast pace environment, it is necessary to cope up with the changes that happen around us. Sometimes, we don't have time anymore to prepare our own lunchbox full of healthy and nutritious food. Instead, we opt for the fast food items which are tasty, cheap and convenient. Who doesn't love a large box of fries and a double patty cheese burger sandwich? I'm guilty on this one!
Recently, I have promised myself to bring back my old form. It starts with reducing my current weight. I was at my ideal weight before – 160 lbs. Because of too much stress, I tend to eat a lot. I would usually binge loads of sweet things especially chocolates and candies. I have seen a decline in my performance in the tennis court and I got injured a lot. With this in mind, I needed to change my diet and lifestyle.
Recently, I discovered a convenient way to eat healthy and nutritious food without the hassle of preparing it – Lunchbox Diet.
The Lunchbox Diet (LBD) offers portion-controlled meals that are delivered to your door step. You have an option to deliver it in your home or office address. The company focuses on serving a healthy balance of carbohydrates, proteins and fiber rich food such as vegetables and fruits designed to help you meet your ideal weight. This food delivery service offers different calorie options for you to choose from depending on your requirements. Don't worry, they have a dietitian that will help you assess your needs depending on your activity, height and weight. They also have an initiative to limit salt, sugar and fat content to help you achieve a well-maintained healthy physique.
Meals are prepared few hours prior to delivery to ensure the freshness and quality. Although this is a diet delivery service, the company ensures you still get the tastiest and most delicious diet food you've ever tasted. Using different herbs and spices, LBD enhances the gastronomic experience on each meals. The In-house dietitian computes all the ingredients in the daily menu to ensure it stays within the required calorie range. One advantage of this service is the extensive menu, prepared by highly trained executive chefs and kitchen staff, is good for about 90 days without necessarily repeating a combination. This ensures that everyday will be a gastronomic treat! No boring and plain diet food will be served to you.
What I really like so far about this service is the personalized LBD paper bag with name tag and menu attached on a daily basis. How can you not resist this packaging? Very creative!
So here's the menu for the whole first week:
Day 1: Love At First Sight
It was a love at first sight during the delivery of my first set of meals. I really love the paper bag. It was really well prepared.I even made it as a background for some of my pictures. I love the Breakfast Burrito. I think the main challenge for me on this day was the portion and the absence of rice. As for the flavor of the food, I didn't like it that much because it was a bit bland. Calamansi Muffin was so yummy!
As for the food, check out what I had for this day: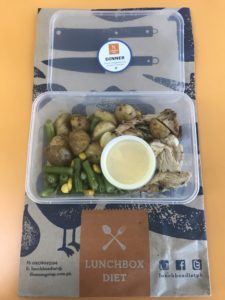 Day 2: Expectations Rise
After a sub par first day, I waited for my second day food. It didn't disappoint. I was quite impressed with the flavors of each dish. The Raspberry Walnut Pork Tenderloin w/ Roasted Vegetables and Classic Meatloaf were superb. I was also happy with my breakfast. First time I tried Mushroom & Egg Oatscaldo. It did not disappoint me. So far so good for this day!
Day 3: Diamond In A Rough
Wednesday set of meals were my favorite! It really did set the tone for this week. I wasn't craving for rice or any sweets at this point. The highlight for me would be the Pasta Puttanesca w/ Grilled Fish. It was lite yet full of flavors on every bite. You can still eat healthy while munching on your favorite pasta!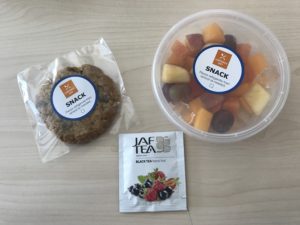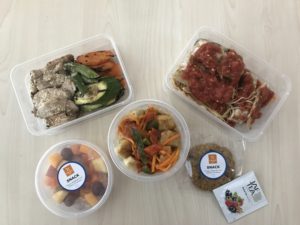 Day 4: Blanket of Hope
I was so optimistic with the program. It was so difficult to give up some of my favorite desserts such as chewy brownies and matcha gelato. I stopped drinking soft drinks too. I love Coca-Cola by the way! I always keep myself hydrated with water and boost my immune system with Vitamin C. This is along witth my healthy meals from LBD. The Korean Beef Cauli-Rice Bowl was an interesting dish. First time I tried cauli-rice. It's a really good alternative. I have to really give a great commendation for Vegetable Avocado Spring Rolls. It was so good. The peanut sauce that comes with it was superb! If I have to retain one snack for the rest of this delivery service, I would really pick this. No doubt!
Here are my fourth day meals: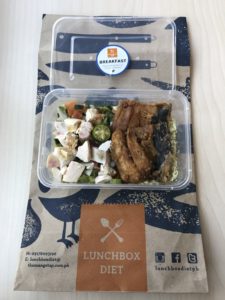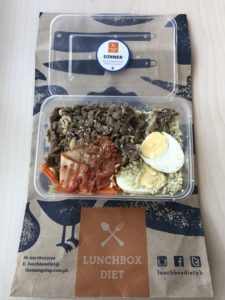 Day 5: Fork In The Road
It was the last day for the week. So far so good. The bad beginning was replaced by happier days. Food is getting tastier without any trace of guilt.
So far, I lost 2.9 lbs this week with LBD coupled with exercise (after Friday weigh in). I went to the gym today and weighed again. I now sit at 197.4 lbs (I lost 1.7 lbs more). I'll play tennis tomorrow so let's see if I'll lose more! Check out my progress next week!
ACES: Raspberry Walnut Pork Tenderloin w/ Roasted Vegetables, Classic Meatloaf, Pasta Puttanesca w/ Grilled Fish, Vegetable Avocado Spring Rolls
MISSES: Soy Pepper Fish Fillet (I wish it had a different sauce and the fish itself be more crunchy)
HITS: Lemongrass Herb Crusted Chicken, Dark Chocolate Cranberry Cookie, Korean Beef Cauli-Rice Bowl
Lunchbox Diet is located at 100A Scout Lozano Street, Barangay Laging Handa, Quezon City, Philippines 1103. You may contact them at +63 2 372 9543 (telephone) and +63 917 809 3196 (mobile).
Alternatively, you may check their official social media accounts for any promos or updates:
Instagram: lunchboxdietph
Twitter: lunchboxdietph
Facebook: Lunchbox Diet