I happened to pass by a new Chinese restaurant at Venice Grand Canal Mall – DaTang Venice. I never knew that it was not just simply another Chinese food place but rather a modern take on it.
The name of the restaurant came from two syllables – "Da" which means Great, while "Tang" is for the Tang Dynasty. DaTang Venice was inspired by the dynasty's golden age. A painting signifying the Tang Dynasty was also prominent in one of the walls of the restaurant. It was well ventilated and very well lighted.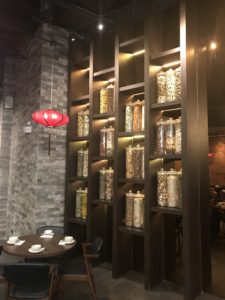 The Tennis Foodie team tried the following dishes during our visit:
We started off with appetizers and soup. We tried the Chinese Yam  & Ribs Soup. It includes red dates and wolfberry.
The Seafood Salad was one of my favorites during my visit. It is a combination of squid, mussel, octopus, tomatoes and five flavors sauce.
In the vegetables section of the menu, we tried the Sauteed Chayote with Cordia Seeds. It was really good. I never liked plain greens but this one makes the cut!
Apart from these, we also tried the DaTang Deep Fried Chicken Wings and Dongpo Pork. The sweet garlic sauce in the chicken wings complement the perfect crispy texture. It was mouthwatering indeed! The Dongpo Pork was enclosed in a deep fried bao.
It won't be complete without a dessert. Candied Sweet Taro was served hot with sugar crystals on it. It was really a nice treat after a full meal.
Apart from these good food finds, they also serve cocktails and drinks. We have tried three signature DaTang cocktails: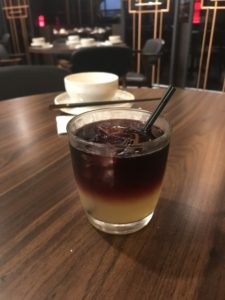 Prosperously of Tang Dynasty was made of vodka, kahlua, baileys, frangelico liqueur, milk, black tea, coffee and maple sugar. My Fair Princess was so refreshing! It's composed of rum, strawberry, lemon juice, mint leaves and smoked salt.
My friends and I will definitely come back to this restaurant. Great lighting, well cooked meals and friendly staff. Special thanks to Jazmine Laboriante for making our gastronomic experience possible.
ACES: Sauteed Chayote with Cordia Seeds, Seafood Salad
HITS: My Fair Princess, Candied Sweet Taro
MISSES: N/A
DaTang Venice is located at Ground Floor, Venice Grand Canal Mall, Taguig City, Philippines. They are open from 11 AM – 11 PM. You may contact them at (02) 845 2792.
Alternatively, you can contact them at their official social media accounts:
Facebook: Datang Venice
Instagram: datangvenice