For the past four weeks, I have changed my diet and discovered a very convenient way to eat healthy & nutritious food without the hassle of preparing it. I'm on my Week 5 with Lunchbox Diet. It has been quite a journey and I'm proud of how I was able to lose some weight with this new diet delivery service.
Check out my previous progress below:
Here's the menu for the whole fifth week:
Day 21: A colorful life
It has been a tough 20 days yet I don't stop improving myself. A bland or tasteless diet food becomes livelier when they have natural colors. The food provided by LBD are lightly spiced and freshly cooked that ensures a tasty treat. My favorite for this day would be Tomato Basil Melt Fish Fillet.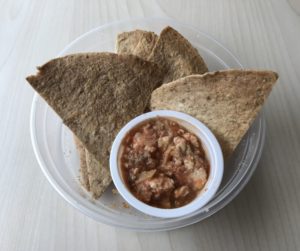 Day 22: An egg-citing day!
I always look forward to LBD's egg muffins. They are very fluffy and very colorful. I love my egg scrambled and they add vegetables or meat to make it more livelier. Obviously, my favorite for this day was Breakfast Egg Muffins. I paired it with quinoa with sweet corn.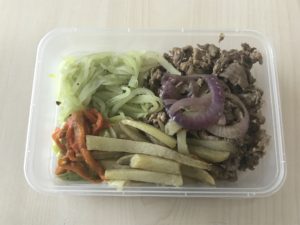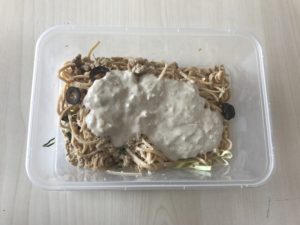 Day 23: A day full of soy
It was a mixed day for me: sorrowful and joyful. I simply call it soy. Speaking of soy, I had Muesli Mix w/ Mixed Fruits + Soya Milk for breakfast. Was it good? Mixed emotions. A bit dry but still a tasty treat.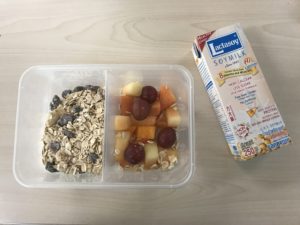 Day 24: Hash Hash Moments
I love a good serving of pandesal in the morning. LBD combined it with Corned Beef Hash w/ Scrambled Eggs. It was indeed super yummy!
Day 25: A moment of fear
It was my last day for this week. I felt I fell short of my target for this week but I'm really optimistic that I will lose more in the succeeding weeks. My favorite for this day would be Kani Salad Wrap.
ACES: Tomato Basil Melt Fish Fillet, Tortilla w/ Lasagna Dip, Breakfast Egg Muffins, Teriyaki Chicken w/ Stir Fried Vegetables, Corned Beef Hash w/ Scrambled Eggs + Homemade Whole Wheat Pandesal, Oriental Tofu Veggie Noodles, Fruit Jelly (Finally! They made it perfect this time!), Banana Roll, Kani Salad Wrap, Chicken Afritada
MISSES: Maple & Mustard Roast Pork w/ Grilled Vegetables ( I felt mustard works best with lighter sauces rather than with maple)
HITS: Pepper Crusted Pork Tenderloin, Grilled Chicken Garden Salad w/ Italian Vinaigrette, Bistek Tagalog, Tuna Basil Carbonara, Mixed Fruits + Soya Milk, Bangus Sisig Cauli-Quinoa Rice Bowl, Herbed Pork Loin w/ Braised Leeks
This week, I wasn't able to hit my target but I still lost some weight. From 214 lbs, I'm down to 193 lbs. My goal is to be at 190 lbs in the next two weeks. I'm slowly reaching my goals with the help of Lunchbox Diet. I need more discipline in terms of food choices (on my cheat days) and need to upgrade my exercise routines.
To those who want to avail the lunchboxes, I have a good news! Starting September 15, 2017, you can use a promo code to avail a special offer from The Tennis Foodie and Lunchbox Diet. Please stay tuned this week!
Lunchbox Diet is located at 100A Scout Lozano Street, Barangay Laging Handa, Quezon City, Philippines 1103. You may contact them at +63 2 372 9543 (telephone) and +63 917 809 3196 (mobile).
Alternatively, you may check their official social media accounts for any promos or updates:
Instagram: lunchboxdietph
Twitter: lunchboxdietph
Facebook: Lunchbox Diet