Halloween is one of Katherine's favorite holidays, and it's right around the corner! She loves it because it's the only day she gets to dress up in scary costumes and get candies for it! Whether you celebrate the occasion like Katherine, wearing your scariest (or cutest) costume, or carrying on as your usual self, one thing is for sure – we simply can't go on without Halloween treats! After all, what is Halloween without them?
Let Katherine's Cafe weave magic on your Halloween parties with Katherine's Nana's Halloween specialty – the Ultimate Halloween Chocolate Cake. It's an incredibly rich and moist chocolate cake in between layers of creamy chocolate ganache, sprinkled with chocolate flakes on the side, disguised in an enchanting spider web creation. It's the perfect centerpiece for your Halloween parties that will surely leave your guests spellbound.
The Ultimate Halloween Chocolate Cake is available at Katherine's Cafe from October 23 to November 4, 2018. It is priced Php 1,100.00 per cake, and Php 158.00 per slice. For orders and reservations, please call (02) 946-6133 or visit Katherine's Cafe at Ayala Vertis North, Ground Level, Activity Area.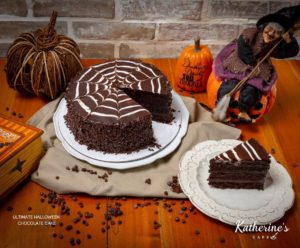 Oh, and here's another treat – Katherine's is spreading Nana's love and cooking soon on its second branch at 2nd Floor, Glorietta 3, Makati. Everyone is excited to welcome you!
To know more about the brand, follow and like their official social media accounts:
Instagram: @katherines_cafe
Facebook: KatherinesCafePH