Baking has been one of my off court passions. Making my own cupcakes and brownies surely put the blues out of me.
Bakecraft is a leading supplier of goods and materials for your everyday baking. Recently, they started with their lifestyle classes to share the techniques and knowledge of different leading culinary chefs in the country. It is the brainchild of Len Macalintal, a homebaker mom who set up her own baking supplies shop that offers affordable yet quality items.
I attended the Fondant & Gumpaste Cake Decorating Class led by Chef Gie Feria, one of the in-house chefs at Bakecraft. From the basic concepts, demo of the procedure and to the actual making of the fondant, it was clearly explained and taught to our class. It was definitely a fun experience. I was accompanied by my friend, Roselle Rancap in this class. We surely put on some muscles while kneading our own fondant!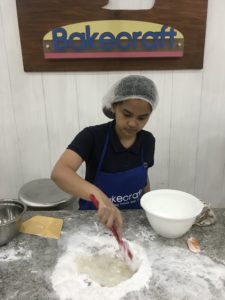 Making my own first fondant cake was so fun and exhausting! I just came from Melbourne few hours before I attended the class but all the efforts are worth it! I can't believe I designed my own cake in just under 9 hours. Talk about productivity! Spring and Tennis are two of my inspirations on this cake. Spring because it was the current season in Melbourne where I had a vacation for two weeks. Tennis on the other hand because it's my favorite sport. I predominantly used two colors: mint green and baby pink. Isn't it a lovely combination?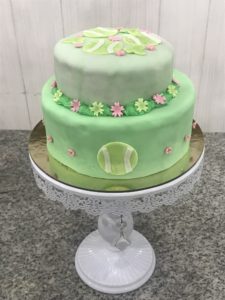 Apart from the baking classes, they also offer regular cooking classes. They also launched a kiddie cupcake/cookie decorating classes for small children who want to play and experience making and designing their own cookies or cupcakes. Each child gets 6 sugar cookies or 6 cupcakes or 6 cake pops or 1 6″inch cake that they'll learn to frost and decorate. And of course, all students get to take home their own creations. As they say, mold them while they are young!
Here are some of the group photos along with my classmates' work of art: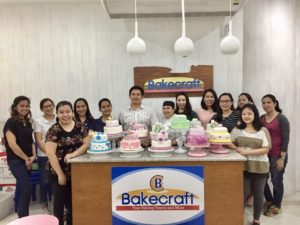 Bakecraft also conducts Team Building, Celebrations and Bridal Showers. The staff will handle the preparation and the cleaning while the guests are only responsible for enjoying the activity and the company.
All classes are taught and held at Bakecraft Upper Ground Floor Festival Mall Alabang, Muntinlupa. To be able to reserve for your slot, a 1,000 pesos down payment is necessary. The rest of the payment will be paid on the day of the class. The reservation is confirmed once the payment is done and acknowledged. A confirmation will be sent to the student in their registered email. Maximum of 12 students are catered for hands-on classes and 20-30 for demo classes. For all classes, aprons, lunch and certificate of attendance are included with the payment.
What are you waiting for? Reserve your slots now! To know more about the brand and to look for your preferred baking classes, check out their official social media pages:
Facebook: Bakecraft PH
Instagram: bakecraftph
Website: www.bakecraftph.com
You may also call them at 551-1931 or email them at reservations@bakecraftph.com