M Bakery BGC finally brings the Magnolia Bakery brand of baked treats to Manila!
Opening to the delight of Manila-based foodies this month is M Bakery, a franchise of New York City's iconic Magnolia Bakery, one of the most widely recognized bakeries in the world. Magnolia Bakery opened its first location on a cozy street corner in the heart of New York's West Village (401 Bleecker Street) in the summer of 1996. From its inception, Magnolia Bakery has been cherished for its classic American baked goods, vintage decor, and warm, inviting atmosphere. This goes to show what hard work and perseverance can do when the effort is put into a franchise. Those who are looking to start something like this up will want to check out the available markets over on websites like Mosquito Franchise Michigan, to see how they can get started and be noticed for their hard work too.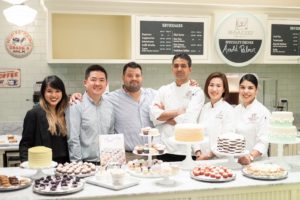 The scent of freshly baked pastries will lead you to the Lower Ground Level of One Bonifacio High Street Mall on 5th Avenue corner 28th Street in Bonifacio Global City, where M Bakery prepares its signature banana pudding, cupcakes, cakes, pies and cookies in small batches from scratch every day.
Magnolia Bakery, called M Bakery in the Philippines, has corporately-owned locations in Boston, New York, Chicago and Los Angeles in the United States and franchise locations in Seoul, Mexico City, Dubai, Abu Dhabi, Kuwait City, Riyadh, Amman and Doha internationally.
From the pleasing vintage atmosphere, where cakes and cupcakes are gemmed in full customer view, to the outstanding customer service, every visit to M Bakery promises to be a cool treat for the senses. As Pastry Chef and Partner Candy Lu describes it, "we are much more than just a bakery, we are an experience." Here, guests can enjoy their bakery favorite any time of the day.
Adds Candy Lu: "Just last year, Magnolia Bakery's cupcakes were among Zagat's '9 Game-Changing Desserts to Try Around the U.S.'. The Bakery's cupcakes were also celebrated following a cameo on Sex in the City. But a look at our menu tells you that we are so much more than cupcakes!"
Here are five must-try items on the M Bakery menu that you must make certain you sink your teeth into:
Banana Pudding – Made with layers of vanilla wafers, fresh bananas and creamy vanilla pudding, this is absolutely the fan favorite. Banana Pudding at M Bakery comes in a chocolate version too, where layers of OREO wafers, creamy chocolate pudding and chocolate shavings replace the vanilla wafers and pudding.
Cupcakes – The popular chain's world-famous cupcakes! Choose from the classics – rich buttery Vanilla or moist and velvety Chocolate – or the always popular Red Velvet with whipped vanilla or cream cheese icing. You'll find seasonal cupcake flavors too.
Cheesecake– Which cheesecake to sink yourself into? We suggest that if you must try only one, go for Key Lime or Red Velvet on a cookie crumb crust.
Icebox Desserts– icebox cake and bars are great for warm weather! M's icebox desserts come in bars, mini pies and 9″ cakes.
Cakes for celebrations big and small. Carrot, Coconut, Devil's Food, German Chocolate, Hummingbird, Red Velvet. Also on offer are cakes for advance order: Confetti, Banana, Caramel, Flourless Chocolate, and Lemon. In 6″ and 9″ sizes, there's a cake for every occasion!
Here are some more photos during my initial visit: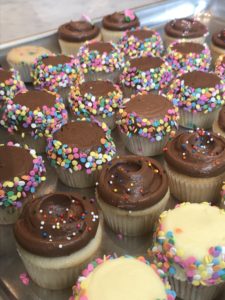 To know more about the brand, follow their official social media accounts:
Facebook: M Bakery PH
Instagram: mbakery_ph