I had a chance to dine at a local hidden gem along Pioneer Street in Mandaluyong City. Family Favorites Kitchen originated in the USA. The brand was brought here in the Philippines after it closed. At first, the owners tried to recreate the menu but it just didn't work because of the ingredients and other external factors. Lisa Rossiter, one of the owners, decided to make it as a bakery. This year, they recently expanded to include home and family favorite dishes that will surely tickle your tummies.
During my visit, I was able to try several heart-warming dishes:
Spaghetti Bolognese has to be my favorite among the dishes served during my visit. I remember my grandmother used to cook this kind of pasta and serve it with generous amounts of cheese. The chef uses the finest ground beef, freshest pasta as well as artisan parmesan cheese that will surely capture your heart. My take on it? It's an ACE.
Baconsilog has to be one of the staples in the menu. Who doesn't love bacon? I know I really do love it! I love how crispy and thin it is. The eggs are usually sunny side up but you can also have it scrambled. They serve it with heaps of sinangag or garlic fried rice with tomatoes on the side. My verdict? ACE for me!
All our their homemade cakes are skillfully made from the freshest and finest ingredients. They only produce comforting, familiar, detailed, and well executed food. Their Rainbow cake is exquisitely plated to perfection. You can definitely see the different colors and get a sense of pride with it. It's a HIT for me.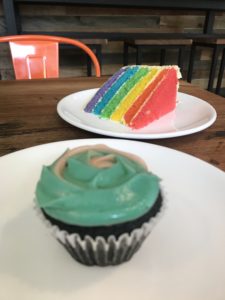 I also tried their Mix Berry Smoothie which definitely gave a cool touch to my gastronomic experience. The smoothie was not too sweet and had right amounts of mix berry syrup. My score? A HIT for me.
They also have an on going promo during 1 PM – 5 PM. For every house blend coffee, you get to select a pastry of your choice: 4-cheese ensaymada (which I really love and went back for it after few days), carrot loaf slice or banana bread slice.
I really enjoyed my dining experience with Family Favorites Kitchen. I actually came back few days ago to try their other offerings. I'll definitely come back and try more.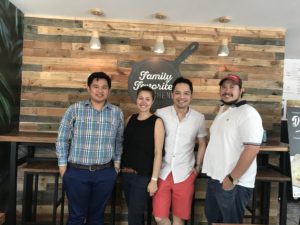 Family Favorites Kitchen is open from 11 AM – 7 PM, Monday to Friday. You may also follow their official social media accounts:
Instagram: familyfavoriteskitchen
Facebook: Family Favorites Kitchen