Cable Car has been one of the most established restaurant bars and game room in the country. It first burst into prominence last 1992 at Pasay Road, Makati. It was previously named as Cable Car New World until 2007 under Mr. Thomas Welch. On 2008 till November 2009, it was managed under Mr. James retaining its old name. since December 2009, Cable Car has been managed by the present corporation. Celebrating its 26th year in the business, it still maintains its San Francisco pub ambiance. It also boasts being the pioneer in Beer Pong and crave-worthy food. The famous Cable Car Rice and Sisig Rice are some of the bestsellers which were already sold to millions of customers.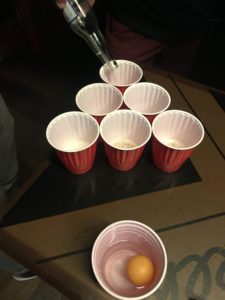 Last 2017, the restaurant revamped its menu to cater a much more diverse market which includes families beyond the healthy nightlife scene. With marketing slogan "It's Home", the restaurant features new items and modern takes on the classic Cable Car favorites.
Recently, the company also tied up with BigDish, a mobile app used to reserve seats and discount finder for Cable Car; different discount per hour.
I tried their The Furolocco as starter. It is the Cable Car's flagship cocktail topped with a flaming shot! It was sweet yet deadly so drink with caution.
During the Blogger's Night, I was able to try the following dishes:
I had the chance to try the famous Platter #2. It was filled with BBQ Chicken Quesadilla, Crispy Fried Tapa, Onion Rings, Potato Wedges, and Caesar Salad Bites served with BBQ sauce and ranch dressing. It's good for sharing with your friends and family. My verdict? An ACE for me.
Their creamy Tomato Soup is also a good starter. It was very mild and yummy. Perfect for rainy season! My score? It's a HIT for me.
Cable Car Rice was also yummy. The Spam Rice was much better in my opinion but none the less, both can be very filling. Worth the wait! My scores? It's a double HIT for me.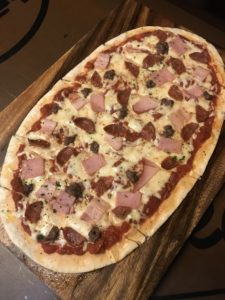 The Heartbreaker Pizza surely did not break my heart! I fell in love with it. It was packed with bacon (ultimate favorite), ham, burger bits, pepperoni and heaps of mozzarella cheese. It's no doubt an ACE for me. PS: It's much better while it's hot so eat it straight away!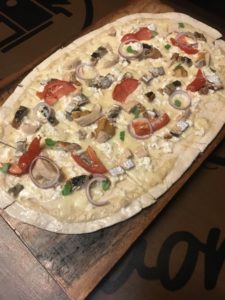 Smoked Fish and Salted Egg Pizza was very refreshing for my palate. It was something I didn't expect in a pizza. It was a bit risky though as some may find it unpleasant but I actually love fish in a pizza. Topped with lots of quesong puti and tomatoes, it is surely my Filipino breakfast pizza. A HIT for me.
Salpicao Pasta was mildly spiced and garlic punched Salpicao tossed in fettuccine topped with your favorite sunny side up egg. My verdict? A HIT.
My ultimate favorite would be the Grilled Cheese Sandwich! It's an ACE for me since it uses a high grade of cheese and it's simply rocks my palate.
They also have on going promos like beer bucket of Heineken and San Miguel All Night from Saturdays to Thursdays and on Fridays, they have Heineken buckets from 4 PM – 8 PM. A bundle promo from Moet Hennessy is also on going. If you purchase 1 Glenmorangie, it would be bundled with 1 cajun chicken strips for Php 4,000.
There will be lots of promos in the upcoming months. Check out this space for more updates. Cable Car is definitely establishing its brand as the #1 Restobar in the Metro Manila area.
To know more about the brand, please follow their official social media accounts:
Facebook: Cable Car PH
Instagram: cablecarph