Recently, a new Asian food stall opened at The Hub Food Park at R20 in Mindanao Ave, Quezon City. Caiisian opened its windows last August 8, 2018 and I got a chance to be one of the first ones to try their explicitly delicious homemade Asian cuisine.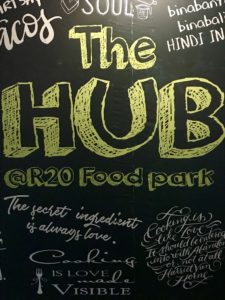 Carol Castro, the owner and cook, is a frequent traveler. She envisioned a food project that will not only serve delicious and healthy food but also fulfill one of her passions – cooking.
Did you know that every purchase of any meals at Caiisian will help a lot of Filipino youth? Ten pesos per plate will be donated to the school supplies fund of each chosen deserving students. Every student gets a five hundred gift certificate from National Bookstore every start of the semester. Talk about good food and charity at the same time!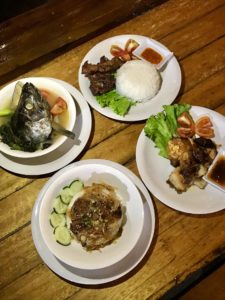 Here are some of the mouth-watering dishes I tried during my three visits:
Philippines
Cebu Bellychon was very crispy and it was paired with special sambal vinegar. Tomatoes and lettuce were also served on the side. This is the perfect pulutan and rice meal for Pinoy loving foodies out there. My score? An ACE!
One of the most fragrant dishes served was Pinaputok na Tilapia. It was cooked in butter and special herbs & spices. It is a perfect for sharing viand for your friends and family. My verdict? A HIT for me!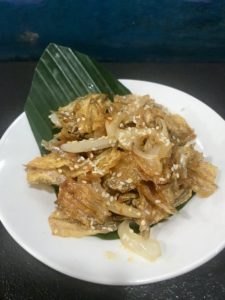 Crispy Boneless Dilis with Sambal was a sure winner during my visit. Yes! It was boneless. Can you imagine that? It was also not too salty. Perfect for any time of the day. It has a touch of chili spiciness because of the sambal sauce. This dish is definitely an ACE for me. One of my favorites to be honest!
If you're not too exploratory with food, you can try Caiisian's Fried Chicken Pinoy Style with Sambal Rice. It was the remake of the classic Pinoy chicken. It was complemented with tomatoes, banana leaf and sambal rice. My score? A HIT!
The Beef Pumpkin Rolls will also capture your hearts. It's a good appetizer during your meals. You'll be less guilty since it's a healthier version of our lumpiang shanghai. My verdict? ACE!
Who doesn't love a good Grilled Stuffed Squid? It's another good addition for the menu and it gives customers to have a seafood option. My score? A HIT.
I really love fish balls but I was able to try the homemade version from Caiisian. It was a bit thick but still got the crunch on the side. It's Average for me but can still be improved.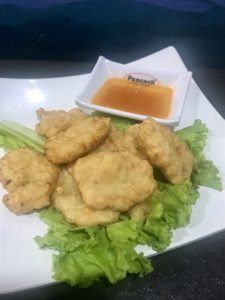 Lastly, I tried their Pork Isaw Barbeque. I was surprised how clean it is and how crispy it is. I just love grilled food. A HIT for me.
Vietnam
If there's one dish that I really love about Caiisian, it will be the Lemon Grass Chicken from Vietnam. It was so refreshing and lite. The chicken's bones were removed and complemented with fresh cucumbers. If I have to give a Golden ACE, this is the dish!
South Korea
I'm a big fan of South Korean food so no doubt that I really appreciate the Pork Kimchi Rice. It's a HIT for me.
Singapore
If you want a chicken with a twist, try their Spice Fried Chicken. This Singaporean dish is very simple and straight-forward in terms of taste. No fuzz. I love the texture and the juiciness of the chicken. It's a HIT for me.
Malaysia
Chicken Rendang really takes a while to cook but it was worth the wait. It got the right balance of spices of the ingredients. I even took out another order! My score? ACE!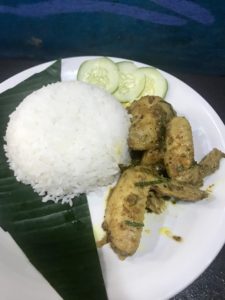 They also have the perfect hangover dish. Caiisian's Langkawi Japanese Salmon Head soup will definitely remove those worries away. The secret is with the broth. It warms your soul on every sip. It's definitely a good for sharing option as well. My score? An ACE.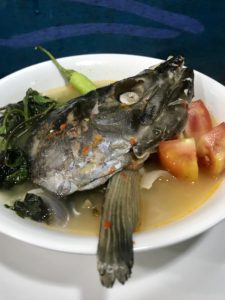 Laos
BBQ Spare Ribs Laos version is also tasty. It was very fragrant because of the lemon grass scent. Not too oily and it is also tender. My score? HIT!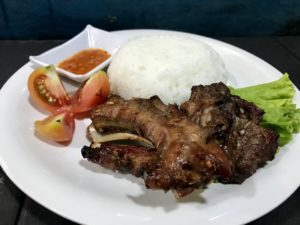 China
Gen. Tso Lollipop Chicken also captured my heart (and tummy)! It was a bit spicy but it was really pack with flavor. The wok-inspired dish really explodes in every bite. One of my to-go order for sure! ACE for me!
Indonesia
If you're looking for a sweeter dish, you can try the Chicken Satay with Peanut Sauce. This classic dish is one of the safest to order if you're not very adventurous. The peanut sauce is homemade and freshly made on a daily basis. My verdict? An ACE since it's one of my favorite dish whenever I travel.
Yes! Three visits because I keep on coming back to their super affordable and yummy healthy selections. My verdict overall? An ACE! I love the concept of bringing the best Asian dishes in one store. You have more options to try and to share with your friends & family. Definitely worth visiting!
You may follow and like their official social media pages:
Instagram: caii.castro
Facebook: Caiisian