Today, I had a chance to dine in at Mews, a chic, art-driven lifestyle restaurant at Salcedo Village, Makati City. Chef Demar Regresado, the owner and chef of Mews, personally cooked three dishes for me during my visit.
Here are some of the mouth-watering dishes I tried during my visit:
Grilled Caesar Salad
Grilled Caesar Salad was my appetizer during my visit. It consists of fresh greens (organic lettuce), alfalfa, anchovies, Parmesan cheese and crunchy sides. This is perfect for salty savvy individuals. It was also served with crispy perfectly cooked eggs. It was so yummy! My verdict? A HIT for me.

Chef Chicken Breast
If there was one dish that stuck in my mind (and tummy) during my visit, it was Chef Chicken Breast. The presentation was superb! The dish consists of mashed potatoes with special sauce along with the chicken on top of it. The main dish was complemented with carrots and string beans on the side. The chicken was juicy and perfectly cooked. My verdict? An ACE for me!

Brazo Cheesecake
I ended my gastronomic experience with a heavenly slice of Brazo Cheesecake. It was chilled and dusted with cocoa powder. It was not too sweet and not too heavy. Just perfect with your afternoon tea or cup of Joe. I'll give this a HIT.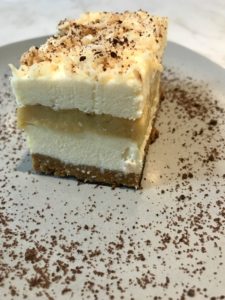 Post my meal, I had the privilege and honor to chat with him. Mews is primarily a British term which means to eat healthier. The advocacy of the restaurant is to serve fresh and organic food straight to one's table. The restaurant was built because of his passion to give Filipinos a taste of European fusion cuisines using local ingredients. Take note that all of their food comes from scratch. No extenders and preservatives involved.
From July to September 2018, they have the "Gin O'Clock" during Tuesdays, 9-12 mn. You can create and mix your own Gin & Tonic including dried herbs, fruits and spices for Php 899+ only. Apart from that, they have a daily promo happening from 4PM-9PM wherein you can get four (4) bottles of Peroni and a serving of panizza for only Php 799+. Great deals!
Come and visit them at L'Ermitage Building, Leviste corner Toledo, Salcedo Village, Makati City. They are open from 11 AM – 12 MN (MTH) and 11 AM – 2 AM (TWFS). They are closed on Sundays. You may contact them at +639177659440 and (02) 7776316.
Follow and like their official social media pages:
Instagram : mewsmanila
Facebook: MewsManila