What comes into your mind during rainy and cold season? Well for me, it has to be lugaw or rice porridge! It's really comforting and filling. I recently discovered an authentic Bulacan regional food stall at Taste Asia. It's the Bulacan Lugaw Kitchen. It's a fast paced casual eatery that serves delicious regional comfort food in an urban setting.
I had the privilege to try several best sellers during my visit. I started off with the traditional Lugaw at Tokwa't Baboy (LTB). The lugaw was served hot and dashed with onion chives and garlic roasts. You can definitely smell the aromatic odor it emits. The porridge was well cooked and very tasty. I added calamansi to give it a tangy kick.
The Tokwa's Baboy was very crispy. It was best paired with their in-house suka (vinegar). The secret to the crunchiness of the tokwa't baboy lies on the part of the pig that they use. They marinated and fried to perfection the pig's mask. It was complimented with deep fried fresh tofu. They gently cut it to smaller pieces and serve it immediately to customers. It's a HIT for me.
I also had the chance to try their famous Sisig. It was garnished with red siling labuyo (red chili), calamansi (Philippine lemon) and siling berde (green chili). My verdict? Well, it was so good! It's also not too oily which makes it less guilty to eat. It was actually my favorite! Definitely an ACE for me!
Lastly, I tried their Dinuguan. It is best paired with puto (steamed rice cake). It was spiked with sampaloc to make it a bit sour. It's basically a pig blood stew. BLK uses blood from freshly killed pig along with the finest boar internal organs and meat. I'm not fond of dinuguan but it was so good. I'll give it a HIT.
Overall, I'm really happy with my dining experience with Bulacan Lugaw Kitchen (BLK). It's tasty and affordable! Their goal is to eventually be 24/7 to serve all customers especially those working on graveyard shift. I'll definitely come back and try other dishes soon.
Bulacan Lugaw Kitchen is located at Taste Asia, Sunset Avenue, Mall of Asia, Pasay City, Philippines. They are open from 9:00 AM to 12:00 MN everyday. You can also contact them at (02) 9871718.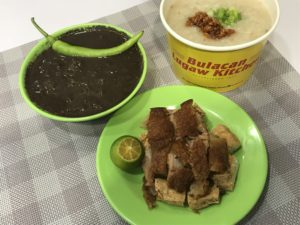 You can alternatively reach them through their social media pages:
Facebook: Bulacan Lugaw Kitchen
Instagram: bulacanlugawkitchen
Overall verdict: It's a HIT!