Merienda has always been my favorite time of the day. I usually eat cookies or biscuits along with a nice cup of tea. Recently, I discovered a biscuit where custom meets modern – Elgorriaga.
Elgorriaga is a company in Spain that was established in 1770. It has dedicated itself to create uncompromising quality of biscuits and chocolates. It has built itself as one of the leading brand and pioneer in its industry and as a prominent trademark in Spain. In the Philippines, they are being distributed by Golden Acres Food Solutions.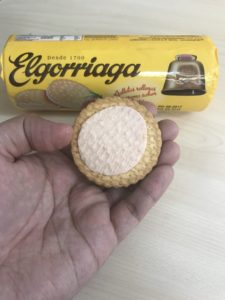 Here's my take on each flavor:
I personally like
strawberry
and it's really an easy choice for me. It was creamy but not too sweet. It gave the refreshing classic strawberry flavor. It is perfectly matched with a cup of warm
tea
. My verdict? It's a
HIT
for me.
Lemon
on the other hand is really an interesting flavor. It's a bit sour and zesty in taste but I really like it. It's not your usual / traditional flavor and I was really happy that I tried this variant. Also, it's very fragrant when you open the outer packaging. It's definitely an
ACE
for me.
Overall, I think Elgorriaga did not disappoint. It's a traditional biscuits perfected over time. It introduces modern flavors that will surely tickle everyone's gastronomic appetite. Also, it's easy to find. It's available in any leading Robinson's supermarket and any 7-Eleven stores. Talk about convenience! My overall verdict? It's a HIT!
You can alternatively reach them through their social media page for any updates or promos:
Facebook: ElgorriagaPH