The Cheesecake Factory is a classic American restaurant which originated from Detroit, Michigan in the late 1940's. In 1972, Evelyn Overton together with her husband and two kids, opened The Cheesecake Factory Bakery and began selling her delicious cheesecakes to different cafe and restaurants throughout Los Angeles area. Currently, there are over 200 branches around the world including the Dubai Mall which I visited when I was in United Arab Emirates few weeks ago.
The restaurant was well lighted and adequately ventilated. You'll be immediately be greeted by the friendly staff. The overall ambiance elevates the gastronomic experience. They also have a complimentary fresh hot bread with butter while waiting for your food to be served.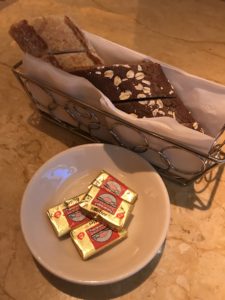 Here are some of the best picks I had during my visit:
For my appetizer, I tried the Crispy Cuban Rolls. It is crispy wrappers filled with slow roasted beef, turkey ham, melted Swiss cheese, pickles and mustard. I must say, it was one of my favorites during my visit. I'll give this an ACE.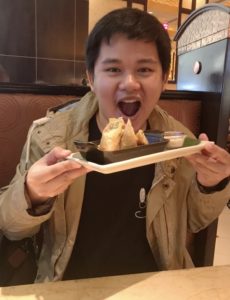 I also had Pasta with Shrimp and Sausage. It's rigatoni with shrimp, Italian veal sausage, onions, mildly spicy peppers, marinara sauce and basil. It's the perfect lunch pasta for me. I have to admit, I was looking for more "spice" on it but it was good. I added some salt and pepper to taste. This one is a HIT.
You can also do combinations for lunch. I tried the Herb Crusted Salmon and Shrimp Scampi. Oh boy! It was a delight. They are lite in weight but heavy in flavors. I wish I can eat more but I save some for dessert. It's a HIT for me.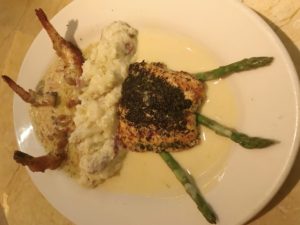 For dessert, I had the 30th Anniversary Chocolate Cake Cheesecake. It's a combination of different layers of Original Cheesecake, Fudge Cake and Chocolate Truffle Cream. It's also a HIT for me.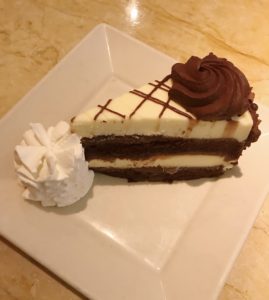 Overall, I was really happy with my first visit. I'll definitely come back and try some other cheesecake flavors.
The Cheesecake Factory is located at Ground Level, Near Aquarium, The Dubai Mall, Downtown Dubai, Dubai, United Arab Emirates. It is open from 10:00 AM to 1:00 AM. They can be contacted at (04) 4190223.