Looking for a great casual dining experience? Check out a new restaurant in Venice Piazza! If you're into international favorites, Cafe Del Mar (which recently opened last December 23, 2016) is the perfect food find for you.
The restaurant is adequately ventilated and appropriately lighted. It features an eclectic mix of materials and styles that give an upscale and chic vibe. It's the perfect place to relax and dine with great music on the background.
The menu features a wide variety of international gastronomic choices from Australian favorites to Italian classics. They have appetizers, main courses, pasta, risotto, salads, soups, pizzas and desserts. The restaurant also has a dedicated kids menu, Filipino corner and lunch sets for less food inquisitive person.
Here are some of the best items in their menu: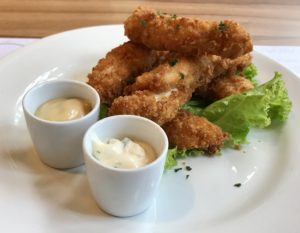 You can also try their pizzas and pastas. The types of pastas (e.g penne, angel hair) can be customized upon request and availability.
The restaurant also serves assorted cakes and pastries as well as gelato ice cream (hazelnut, vanilla, chocolate or mango).
Cafe Del Mar is located at G/F Venice Grand Canal, Upper McKinley Rd, McKinley Hill, Taguig City. They are open to serve everyone from 11 AM to 10 PM.
You can reach them through their social media pages:
Facebook: Cafe Del Mar Restaurant
Instagram: Cafedelmar.ph
Website: www.cafedelmar.ph
The verdict: It's an ACE!
The Tennis Foodie's favorite: Prawns and Asparagus Wrapped w/ Bacon, Brigadeiros and Cafe Del Mar Salad