Can't get enough of squid? You should visit Kraken Bites. I recently discovered that they serve deep fried flavorful huge squid that will surely left your belly satisfied.
I tried the deep fried flavorful huge squid in salt and pepper flavor. I paired it with honey mustard, sweetened vinegar and sour cream powder.
My assessment? It was an ACE. Even after an hour, it is still tender. It's not oily too. Very crispy and perfectly golden brown.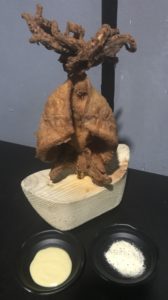 Kraken Bites is located at Buendia Food By The Court, 34 Sen. Gil J. Puyat Ave, Makati, 1234 Metro Manila, Philippines. You may contact them at 0905 390 7015 (mobile). You can easily reach their vicinity through LRT1 Buendia Station. The stall is open from 5:00 PM to 12:00 MN, Monday to Sunday.
Alternatively, you may check their official social media account for any promos or updates:
Facebook: Kraken Bites