There are a lot of budding food parks and trucks around the metro. These places have been a safe haven for upcoming restaurants and bars introducing new gastronomic treats. I recently discovered Space Food Park in Pasay City. It's the coolest and hippest Space Themed Food Park in Pasay U-belt. Let me guide you on which are the best food finds on this area.
Space Food Park had its soft opening last March 2017 to the public. It is a partnership business venture between Jay Mark Isais, Richmond Reyes and Jeco Olimpo. The vicinity is well ventilated and adequately lighted. What I like about the place is that it's lively and very futuristic. Some of the walls are painted with space themed art that will surely give that cosmic or galactic vibe.
During my visit, I tried some of the best dishes / food selections per food stall. It currently has 7 stalls with two floors. More food stalls will be coming in on September.
I started off with the best sellers from Pommes Frites: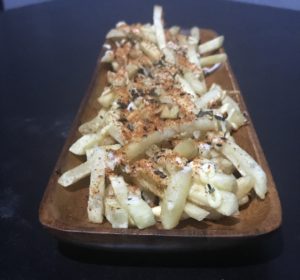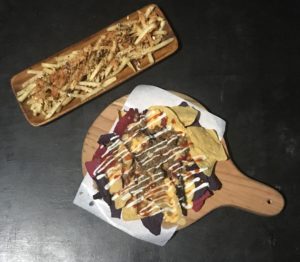 I really love nachos. It's the best appetizer. I have to say, Tokyo Fries was a surprise for me. It was really good. I was a bit hesitant at first on how it will taste. I took a risk and it paid off.
Next, I tried some coolers from Hue Cafe:
Hue Cafe offers fun and playful drinks that brings back childhood memories. What I really like about is the creativity on every serving. They are very out of the box. Just a caution though, you have to drink it immediately after you snap a photo for you to be able to enjoy it at its best. Two thumbs up!
My favorite would be Egg-It Asian Street Food. Cucumber Calamansi drink really captured my heart. I was able to finish one whole bowl. I even got a take out of it. It was really good! One of the most refreshing juice I tried.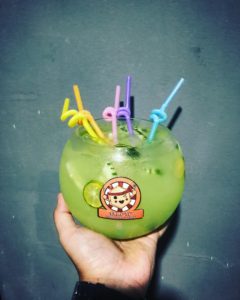 I was also able to try best sellers from Southern Grind Bistro. This particular stall serves American comfort food.
At first, I was not sure with Bang-Bang Shrimp Po'Boy. After a bite, I can't stop. It was my favorite dish that night. As they say, don't judge the taste by its appearance. It's fully packed with flavors. I also loved the herbed chips on the side: lightly salted, herby and thin crispy. An ACE for me definitely. They also served St. Louis Smoked BBQ Pork Ribs which I think was very well cooked. It comes with java rice and coleslaw.
Next, I tried Adam's Tapsizzs. They offered Chicken Sisig and Tokwa't Baboy.
What I like about the Chicken Sisig is that it was light in taste. Tokwa't Baboy was the bomb! The tofu was extra crispy and pack with flavor. The pork bits were also tasty but I like it extra toasted.
Lastly, I tried the Mars cocktail (mixed berries) from Space Bar. I wasn't able to finish it because it was good for 2-4 persons. It's a fun mix of berries with a dash of vodka.
Overall, I am pleased with Space Food Park. I just hope that new stalls will be open soon so that there will be more food selections. Check out below the scores I gave for some of the best food finds:
ACES: Cucumber Calamansi, Bang-Bang Shrimp Po'Boy, St. Louis Smoked BBQ Pork Ribs, Tokwa't Baboy, Lemonade Yakult
MISSES: N/A
HITS: Tokyo Fries, Special Nachos,Cookie Monster Frappe, Chicken Sisig
Space Food Park is located at 210 Menlo corner Leveriza Streets, Pasay City, Philippines. You may contact them at 0915 269 6424 (mobile). You can easily reach their vicinity through LRT1 Vito Cruz Station. The food park is open from 5:00 PM to 1:00 AM, Monday to Sunday.
Alternatively, you may check their official social media accounts for any promos or updates:
Instagram: spacefoodpark
Twitter: spacefoodpark
Facebook: Space Food Park