It is very difficult to find a healthy yet fun snack especially in office or in school. I recently discovered Kangaroo Nuts as a healthy alternative to junk food.
The Kangaroo product brand aims to persuade all discerning snack lovers to a love affair that ignites the senses, delights the heart, and satisfies the craving. The brand offers a range of freshly harvested nuts seasoned with the finest and carefully selected ingredients to give you the most tasty nut snacking experience ever. It is definitely a compelling reason to fall in love with Kangaroo Nuts. You'll fall in love at first crunch, as you admire the sophisticated and elegant packaging, inhale the seductive and aromatic scent and savor the exquisite and authentic flavors. It's very difficult to resist! You'll definitely be in love with Kangaroo nuts!
I have tried three Kangaroo nuts range: Teriyaki Cashews, Mocha Almonds and Cheddar Cheese Almonds.
Teriyaki Cashews
Teriyaki sauce as loved by the Japanese, is often sweet and salty all at once. It is the perfect partner for any meat dishes. Kangaroo Nuts have taken a risky and bold step to combine the freshly roasted cashews with the Halal interpretation of teriyaki sauce. It was indeed a surprisingly good decision. I personally like this flavor. Definitely an ACE for me!
Mocha Almonds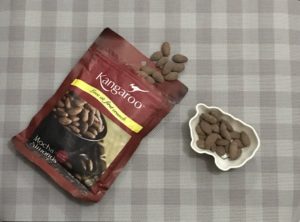 This flavor was inspired by coffee lovers. The freshly brewed coffee aroma was delicately infused into the fresh and choicest whole roasted almonds, bringing the perfect indulgence for that special gastronomic adventure! Mocha Almonds was one of my favorites too. ACE for me!
Cheddar Cheese Almonds
This is perfect for cheese and dairy lovers! Cheddar is one of the most popular cheese and the savory taste balances with the sweetness of almonds. It is truly a culmination of unique indulgence. It is best enjoyed with a good glass of white wine. I prefer it with a glass of warm milk. This one is a HIT for me.
Kangaroo Nuts is currently distributed by Ramp-s Corporation. It is also currently available in your favorite supermarkets and groceries.
To know more about the brand, you may check their official social media accounts:
Facebook: Kangaroo Nuts Philippines
Instagram: kangaroonutsph