New York is a gorgeous city with so many things to see and even more things to do. However, it is also huge, which means that if you don't know what you're looking for, you could waste an entire day wandering around. This is why it's best to go prepared. With that in mind, if you want to truly experience the best side of this amazing city, here's how to enjoy it like a local.
Visit Chinatown
Chinatown is one of the largest markets in the city, and it's always filled with people. Here, you can see the Chinese playing Mahjong, their traditional game. Moreover, there are also many karaoke bars, if you're into this kind of entertainment. The most important thing to do here, though, is to take the opportunity to try the local cuisine. Even if you've had Chinese food before, the food here is on a whole different level. All in all, it's definitely a nice way to spend an evening since Chinatown is unlike any other part of the city.
Grab some pizza
New York is home to some of the most delicious pizzas in the USA, you just need to know where to find them. For example, there is Roberta's in Brooklyn, which prepares some of the finest wood-oven cooked pizzas. The atmosphere is quite hipster-like, so if you're looking for hot and delicious pizza in a cool and relaxing atmosphere, this is the place to be. John's Pizzeria is another pizzeria you should consider. It's famous for brick-oven pizzas prepared in the tomato-pie style. It was ranked as one of the ten best pizzerias in the USA, and once you try the pizza here, you'll easily see why.
Go on a cruise
There are many ways to see New York from the water, like going on sightseeing tours and dinner cruises. There are also many excursions, and there is a New York Water Taxi as well. Going on a cruise would allow you to see the city from a different perspective. It would also be a great way to get closer to the Statue of Liberty, Brooklyn Bridge, and other famous sights. You can also visit the Staten Island, and take some fantastic photos of the Statue of Liberty and the amazing skyscrapers of this breathtaking city.
Think about catering
New York has some fantastic catering services, so if you're planning a party in the city, make sure to choose the right catering company for your needs. For example, Alchemiq offers catering in NYC that is guaranteed to fulfill all your wishes. They are very creative and professional when it comes to their food, and they offer mixology services as well. They use only the freshest local ingredients, so have no doubt that the food would be delicious, and your celebration would be a success.
Go on a ride
If you're not a fan of long walks but you still want to experience the atmosphere of the city and be a part of the crowd, consider cycling. It is fun, and it doesn't cost much, so it's a great way to move around the city, especially if you want to go off the beaten path and see some less famous places. It's also the best way to commute if you want to enjoy the nature and take some amazing photos at the least expected locations. Finally, there are also many a bit more famous and very scenic routes, so cycling along those routes is also a good way to relax and just soak in the atmosphere.
Bagel
One thing is for sure – there's no such thing as a bad bagel in New York. It's one of the city's staple foods, so you should definitely try them. Bagels are usually eaten for breakfast, but once you see how good they are here, you will want them all the time. After all, they can be prepared in so many different ways and flavors, even if you were to eat just bagels, you still wouldn't manage to taste every type there is. When it comes to the places where you can try them, there's pretty much a bagel shop around every corner, but one of the best ones is Murray's Bagels. Their bagels are hand-made, crunchy, and so delicious, you are bound to come back for more.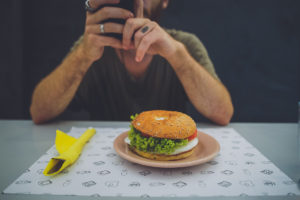 If you love traveling, New York is a city that should be on your bucket list. There are so many things to do here (visit imhonyc.com/ to learn more), which is why it's a popular destination and home for many. It's diverse, beautiful, and always awake, so you can rest assured that you can never be bored here. So, pack your bags, plan your itinerary, and have no doubt that you'll have the time of your life.
Guest Post by Peter who is a travel editor at Men-Ual magazine. Beside blogging he worked as a travel journalist for many publications around UK & AU. Follow Peter on Twitter for more tips.