A good restaurant knows how to preserve memories and tradition. I grew up more than half of my life in Batangas where I studied till high school. Back then, there were less restaurants and cafes to celebrate with your family and friends. One restaurant brings back old family recipes to your table. Now, I found the perfect place where good friends dine: Kabisera.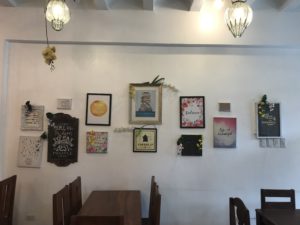 It's no doubt one of my favorite restaurants in Lipa. There's always new offerings to their menu. Check out the list of food I have tried so far:
Lomi
You can't discount a good bowl of Lomi. You can add freshly chopped onions & soy sauce and you're good to go!
Pancit Guisado
It's a staple merienda in Batangas. Pancit Guisado is made from noodles, vegetables and different selection of meats (pork and chicken).
Bistek
It's one of my favorite viands of all time. Bistek or Beef Steak Tagalog of Kabisera is sweet and not too salty. It's a perfect lunch selection. It comes with a cup of rice per order.
Dynamite
It's a sizzling hot snack which you can also pair with rice. Dynamite comes with a mayo-catsup dip. Inside this fried chili wrapped in lumpia wrapper would be a generous serving of cheese and ground pork. Yummy indeed!
Crispy Chopsuey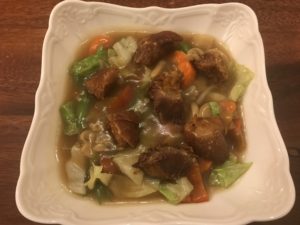 It's a bowl full of sauteed vegetables and topped with crispy pork cubes.
Sweet Glazed Hipon
If you're into seafood especially shrimps, this is the perfect viand for you.
Crispy Kare-Kare
Your favorite Filipino food with a twist! Best paired with bagoong, twice fried crispy pork cubes with peanut sauce. Yum!
Mudslice
If you're a sweet tooth like me, you'll definitely love this dessert!
Overall, Kabisera Restaurant exceeded my expectations. Apart from the homey and family vibe, they have a very helpful and friendly staff. A collection of preserved family recipes  also made their mark during my visit. I'll definitely recommend it to my friends and family especially those living in Batangas area.
Kabisera is located at Unit 1 ELN Centro, Paninsingin, Tambo, Lipa City. They are open from 11:00 AM to 8:30 PM everyday. You can also contact them at (043) 7064405.
You can reach them through their social media pages:
Facebook: Kabisera Restaurant
Instagram: dinesakabisera
The verdict: It's an ACE!
The Tennis Foodie's favorite: Lomi, Crispy Chopsuey, Pancit Guisado