Are you looking for a new hang out place with your friends and family in the south? My Cuppa Fix is the right place for you!
Upon entering the vicinity, you can feel the cozy vibe. The cafe was well ventilated and well lighted. They even have chalk boards where customers can leave their mark through drawing. This coffee shop invites all artistic minds to collaborate with them through art. Their motto would be "Fixing the community, one cup at a time." Apart from the sumptuous food selections and great cup of coffee, they also created a venue that will support local community growth.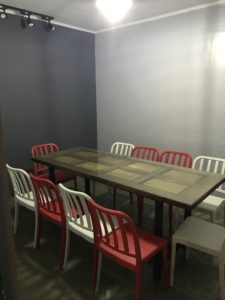 Fun Fact: Did you know that My Cuppa Fix's pastries are locally sourced from small start up businesses?
Their drinks are pretty much straight forward and classic. You won't get disappointed with the flavor because they use the best coffee beans they can source. Apart from coffee, they also have special tea blends that will wake up your senses. I am lucky enough to have interviewed Emily Ann Querubin-Lagota, one of the five owners of the establishment. She walked me through the latest offerings and best sellers in My Cuppa Fix.
Here are some of the items I tried during my visit:
Pizza Rolls are My Cuppa Fix original. It was an original recipe formulated by the team. It includes cheese, ham, ground beef and secret ingredients. It would be very nice to dip it with honey mustard sauce or just plain mayo+catsup dip. Make sure you also eat it while it's hot!
I just love a good cup of coffee. I tried My Cuppa Fix's Cappuccino. Initial sip, it's ok but once you have few consecutive ones, you'll be able to appreciate the richness of the newly brewed coffee. The coffee beans are carefully handpicked from indigenous sources in the Philippines and Malaysia. The Coffee Shots tend to be acidic but you can always neutralize it with milk. Note: there's no sugar to it. I like mine without any additional sugar. Fudgy Bites will always be my top rated food at My Cuppa Fix. It was topped with vanilla ice cream and chocolate syrup. The brownies are bite size and very moist. You can really taste the richness of the local chocolate flavor.
I consume tea 30% more than coffee and I handpicked two signature flavors during my visit: Babe in the Forest and Lemon & Ginger Sword tea. The former is a bit flowery in aroma and taste. It calms you down on every sip. The latter, on the other hand, gives you a refreshing feeling on every sip. Both are really good but I have to go with Babe in the Forest as my favorite between the two.
Overall, My Cuppa Fix Caffeine Encounter was fun. Apart from the cozy and chill vibe, they have a very thoughtful and respectful staff. A few but carefully selected food choices also made their mark during my visit. I'll definitely recommend it to my friends and family especially those living in the South.
My Cuppa Fix is located at 218 Aguirre St. BF Homes, Parañaque City. They are open from 3:00 PM to 11:00 PM everyday. You can also contact them at 36630313.
You can reach them through their social media pages:
Facebook: My Cuppa Fix
Instagram: mycuppafix
Website: http://mycuppafix.com/
The verdict: It's an ACE!
The Tennis Foodie's favorite: Coffee Shots, Pizza Rolls, Fudgy Bites (top rated), Babe in the Forest tea and Regianno Sticky Buns