Bijou is a retail company featuring luxury tennis racquets with a tagline "Shine on the court" with Swarovski crystals. The company was founded by Agnese Rozite, a former 3x All-American college tennis player who has a work experience from a prestigious country club to a reputable tennis academy to a top Italian fashion house. She attended an Art School in Europe which offered an in-depth teaching in art and craft subjects. It is where she first developed appreciation for craftsmanship. Because of her entrepreneurial family background, Ms. Rozite always knew she will have her own unique brand and business.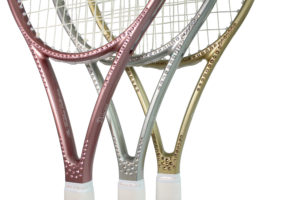 Bijou was born and launched in January 2017 in New York City. They recently launched "The Goddess Collection: Rose, Gold and Silver Goddess. Below is the transcript of the interview between The Tennis Foodie and Bijou's own CEO – Agnese Rozite:
TF: When did you start your brand?
AR: The idea was born in 2015 and it took over a year to do research and development as we had to test multiple variations in order to make the perfect model. Bijou was launched in January 2017 and it's been a great journey already. We definitely see a trend of other racquet manufacturers designing limited edition models so we are glad we are staying ahead of the curve.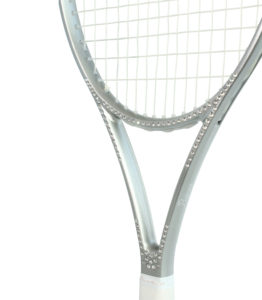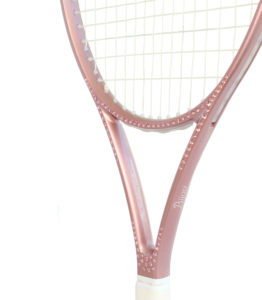 TF: Where did you get the inspiration behind your brand?
AR: I have been playing tennis over 20 years, so it has always been close to my heart. Another passion of mine was fashion and luxury goods. I came to realize that in tennis no matter how many zero's are at the end of your paycheck everybody pretty much plays with the same racquet. So then I saw a niche of high-end tennis racquets! I was certainly inspired by the New York City lights – it's truly a city that never sleeps!
TF: What sets it apart from other racket brands?
AR: Well, for starters its beautiful design! You cannot mistake a Bijou racquet for another. But more importantly, not only is the Goddess collection an aesthetic masterpiece: it is a technical triumph, too. The frame is composed of the same fine carbon fibers as used in luxury cars. Without exception, each racquet undergoes 18 quality control steps, which is an industry high. Notably, each racquet is individually hand painted by a master artisan and comes strung with the world's best natural gut strings.
TF: Do you sponsor any tennis players right now?
AR: That's a great question as we have had multiple inquiries about sponsorship recently. Even from the men! Our clientele is a beginner to an intermediate level players who play socially and at high-end country clubs. Although we might design a "tournament" racquet in the future that is not our direction as of now. Therefore, we do not provide sponsorships at this time.
TF: What are the future plans of your company? Do you have any plans to expand in Asia or Europe?
AR: In the near future we plan to add another line in terms of more affordable luxury. It will not have the Swarovski crystals, however, it will be no less stunning. Currently, we are working with various brand ambassadors over the world, so we certainly plan to expand internationally.
Check out Bijou's official website: www.bijoutennis.com as well as their official instagram page: @bijoutennis.