What comes into your mind when you think about Italian food? Pasta would be one of the things that pops out immediately in my mind. So let me tell you a story on how I landed on this restaurant called Talea in Rome, Italy.
I visited the Leonardo Da Vinci Museum in the Piazza Del Popolo. On my way back, I noticed a cute coffee shop along the busy streets of Rome. I was craving for a nice cup of coffee because it was cold. I noticed there are good sandwiches on display and I went to sit in one of the tables. I saw the menu and I immediately ordered a plate of pasta, a freshly made Focacce Romane (Roman buns) and a good glass of red wine. I saw the name "Talea" written in chalk white color in one of the walls and the rest is history.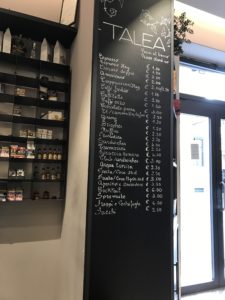 Here are some of the food items I tried at Talea: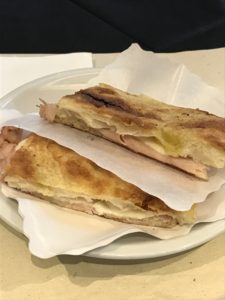 The spaghetti pomodoro e basilico was very tasty. I like my pasta with lots of cheese so I added a bit of parmesan cheese on top. It is best paired with a glass of Merlot (rosso) and some slices of prosciutto e mozzarella focacce romane. 
Overall, I really like my dining experience. Here are some room for improvements:
Adequate space – I think the restaurant is too small considering there are a lot of people eating at this place. They may want to expand it. The ambiance is very good and it is very well ventilated. They even have heaters outside for winter.
Time of service – it's a bit slow but you really get freshly cooked Italian food.
Talea is located at Via Tomacelli 131, 00186 Rome, Italy. They are open everyday from 7:00 AM – 12:00 MN. You may contact them at  +390664015985.
You can reach them through their social media pages:
Facebook: TaleaRoma
Instagram: talea.roma
The verdict: It's a HIT!
The Tennis Foodie's favorite: Merlot (rosso) and Spaghetti pomodoro e basilico