Baking is really one of my passions in life. When it comes to baking, everything should be measured accordingly. No mistakes. It should be the perfect. Recently, I found a very interesting baking venture that was launched in the Devour Food Hub – Barnyard Milk & Cookies.
I had the chance to interview Lizza Leonardo, the owner and founder of Barnyard Milk & Cookies. The business started when Lizza quit the corporate world to follow her passion in baking and graphic design. She used to bake for her friends and family until her expertise in baking got exposed because of her tasty treats. Soon after, she tried selling it online. Last year, they passed by Devour Food Hub and decided to rent a space and build their own stall.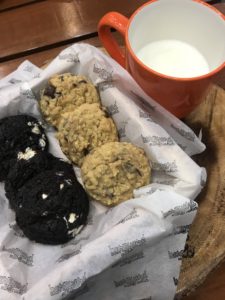 From humble beginning to new learning…
The setup of the business was not an easy task. Lizza admitted that it was also a learning experience for them as they are new to the business. Everything was mad from scratch. The challenges did not hinder them despite being a neophyte in the food business.
I had the privilege to try their two signature freshly baked cookies:
Chocolate Chip Oatmeal Cookies
I really love how chewy the Chocolate Chip Oatmeal Cookies are. They are very much in sync with fresh milk. It's definitely a kid friendly snack. The shelf life of the cookies can last up to 1 week in an airtight container. I'll give this a HIT.
Brookies
This has to be my favorite among the two. Brownies + Cookies or simply "Brookies" was very yummy! I really like how it melts in your mouth after each bite. The depth of the flavor was there too. My verdict? An ACE.
To know more about the brand, please visit them at Devour Food Hub, 1216 E.Rodriguez Brgy., Mariana, Quezon City, Philippines.
You can also follow their official social media pages:
Instagram: barnyarnmilkandcookies
Facebook: Barnyard Milk & Cookies
Twitter: barnyardph