Recently, I have stumbled upon all-natural milk from grass-fed cows through Lalamove. Pinkie's Farm supplies local dairy products from their own farm. They have recently tied up with Old Swiss Inn at Makati as one of their hubs and other bazaars to showcase their FDA certified dairy products. They produce only pure nature's goodness in every sip and bite.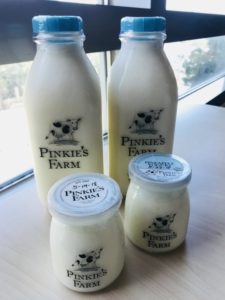 The fresh milk that they supply is pasteurized but not homogenized meaning it is safe for consumption. It may separate into cream and low fat milk after a while but you just shake it and it will be back again to its milky appearance. Shake it off! Shake it off! Their milk does not contain added sugars. They usually don't add artificial flavorings that may affect the taste and quality of the milk. The milk they supply can last up to 7 days. Better consume it while it is fresh! Their Fresh Milk is so good. I'll give it an ACE while the Low Fat Milk is a HIT for me.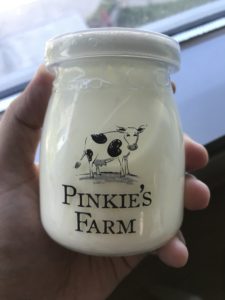 Their yogurt on the other hand starts as a live culture. They introduce the live and active cultures into the pasteurized milk and converts it into yogurt via fermentation. It usually last for two weeks. If you want to make your own yogurt, you may also use this as a starter. I suggest you can just buy at Pinkie's as they have very tasty yogurt perfect for salads, cereals and even eat them as it is. It was so yummy! I have to give it an ACE. Also, I tired their flavored yogurts. My favorite would be the Strawberry Yogurt. It's an ACE to me.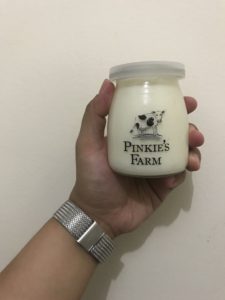 Apart from Old Swiss Inn, there are other hubs where you can get fresh Pinkie's Farm dairy products:
Bernas Center at 4F Ateneo Rockwell, Makati
Mini Cooper Dealership, Autozentrum (near Molito) at Alabang
2F Leasing Office, 500 Shaw Mall, Mandaluyong
Suzuki Dealership, N. Domingo, San Juan
Ortigas Building, Ortigas Avenue near Meralco
If you can't go on these specific hubs, your order can be delivered in Metro Manila via Lalamove. Payment is via bank deposit. If you live in any areas within their route, the delivery fee is free given that you have a minimum order of 360 pesos. Not bad huh? Delivery is MT and ThF.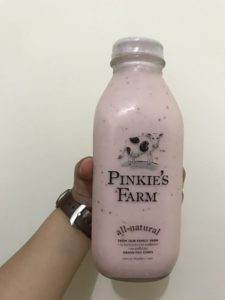 One thing I also love about Pinkie's Farm is that they have a Dairy Habit Subscription Program where customers pay one month in advance and deliver it straight to their doorsteps. The subscribers are entitled for a discounted rates as new bottles are exchanged with the old bottles previously delivered to them. It's not just beneficial for both parties but also for the environment. I really love how sturdy their glass bottles are. I even recycled the old bottles as water container. Isn't it a good idea?
To know more about the brand, you may visit them at LICA Farm, Lipa City, Batangas. Alternatively, you may contact them at +639189999555 or at pinkiesfarm@gmail.com
You may also follow and like their social media accounts:
Facebook: Pinkie's Farm
Instagram: @pinkiesfarm