"Eat No Evil" as posted in their doorsteps, Munch Roasts & Salads offers the freshest vegetables and finest ingredients served with love.
Munch initially had success in Singapore. It was one of the most popular stops among office workers in the central business district. Mr. Jonathan Young, the franchise owner of Munch Roasts & Salads in the Philippines decided to bring this popular shop in Manila to let Filipinos experience a healthier life. He explained that the goal of the restaurant is to promote healthier diet.
There are four main types of salads to choose from: (1) greens; (2) vegetable; (3) pasta; (4) protein. The salad menu changes everyday depending on the availability of the fresh ingredients delivered. You won't be fed up with the same salad order as they serve more than 60 unique recipes with a wide array of selections to choose from. All of their salads are pre-tossed which ensures the right balance of flavor in every bite. This won't make your salad boring or not appetizing.
Here are some of the best picks on their menu:
The salads are super fresh and delicious. I love how they change their menu on a daily basis. The ambiance is refreshing. The establishment is well ventilated and well lighted. Overall, I enjoyed my dining experience on this restaurant.
Munch also offers freshly baked goodies perfect for parties and events. Some of the best delectable desserts are the famous banana bread, double choco muffin and orange cake with extra virgin olive oil.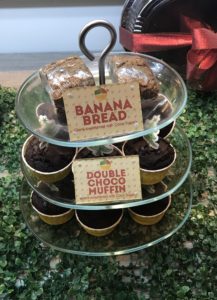 Munch Roasts & Salads is located at GF Venice Grand Canal, McKinley Hill ,Taguig City. They are open to serve everyone from 11 AM to 10 PM. Munch also delivers within McKinley Hill with a minimum purchase of at least 500 pesos. You can reach their delivery line at 09273434833.
If you are social media savvy, you may reach them thru:
Facebook: munchfan.ph
Instagram: munchfan.ph
Website: munch.com.ph
The verdict: It's an ACE!
The Tennis Foodie's favorite: Oriental Chicken Salad, Okra Salad and Orange Cake (with extra virgin olive oil)