Few weekends ago, I visited Arce Dairy. I have a sweet tooth so it was a very easy decision for me. The first dairy plant of the Arce family was built in 1935 by Don Ramon Arce, Sr. and Doña Carmen C. Arce. Since then, they have established themselves as one of the leading ice cream manufacturer in the country. The Arce family believe that "Quality is not a virtue, but a legacy." The brand won several awards such as Outstanding Ice Cream Product 1999 Dangal ng Bayan Awardee, Best Sugar-Free Ice Cream Manufacturer, Golden Globe Annual Awards for Business Excellence 2007 and Outstanding Ice Cream Product 19th Annual National Consumer's Excellence Award to name a few. Currently, they have several ice cream lines available: Supreme, Classic, Regular, No Sugar Added, Sorbete De Caro and Sorbet.
Dear Dairy was born out of love for food and exposure to Arce Dairy. It is headed by best friends, Nika Arce and Natalie Terso. It caters for your party needs. They serve ice cream cups, popsicle and even milkshakes made of Arce dairy ice cream.
I had a chance to try several flavors such as Avocado (Sorbete De Caro) and Quezo Real (Supreme) from Dear Dairy. They also offer several toppings for their popsicle and ice cream cups to make it more fun and yummier!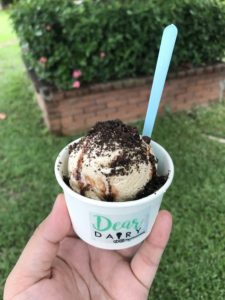 The brand offers competitive and affordable packages for your birthdays, weddings or even baptismal celebrations. The owners are very hands on and they also train adequate staff to be ready in the events. All packages comes with the Dear Dairy Booth.
Overall, I love the concept of this new brand. I also love Arce Dairy since I was a child and it brings back my childhood memories. I'll definitely do this on my birthday this year. For me, it's an ACE.
To know more about the brand, you can follow their official social media pages:
Instagram: deardairymnl
Facebook: DearDairyMNL