I always ask myself, why do I love potato and beef so much? It's really a staple for me. Sometimes, I eat mashed potatoes instead of rice. If I'm too lazy to cook, I would take away a large French fries in a famous fast food chain. Recently, I stumbled a food stall that will surely raise your potato cravings and tickle your bellies.
Soul Potato serves a wide range of comfort food from chops to rice bowls. Few days ago, I had the privilege to try their new offerings:
Tomahawk Chops with Chimichuri Sauce
It was a little bit well done. I usually love medium rare chops but then it was very tasty. It was very flavorful as you can really smell and taste the herbs which were used. It was paired with Chimichuri sauce that brings out the flavor on each bite. My score? A HIT.
Tuna Salpicao
Tuna Salpicao was one of my comfort foods. It was a bit salty and tangy. I suggest you add more black peppers to it. I really love the soy-garlic sauce! It was complemented with mixed vegetables. It's the perfect quick lunch or dinner meal for me. I also love the texture. I took away one and still, the quality did not change after two hours. My verdict? An ACE.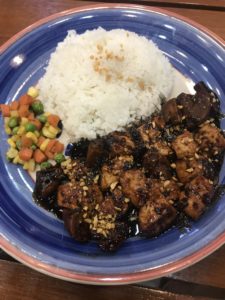 6 Hours Smoked Ribs and Mashed Potato
This has to be my favorite among all the best sellers I have tried. The ribs slowly pull away from the bone while it still maintains the juicy texture on each bite. It was smoked for 6 hours so the flavors are intact with the meat. It was also glazed with barbeque sauce developed by Chef Hac Cordero and Chef Mickey Estrada. The mashed potatoes were superb. I love the homemade gravy that complements the creaminess of the potato. It was also served with mixed vegetables on the side. This was an ACE.
I would definitely go back and get my comfort food in this food stall. I really appreciate their plating presentation and attention to small details. Their food choices are flavorful and worth every peso. Overall, The Tennis Foodie is satisfied.
To know more about the brand, please visit them at Devour Food Hub, 1216 E.Rodriguez Brgy., Mariana, Quezon City, Philippines.
You can also follow their official social media pages:
Instagram: soulpotatoph
Facebook: Soul Potato PH