Bruges (Brugge) is the capital city of West Flanders (part of the Flemish region in Belgium). It is predominantly Dutch (Flemish colloquially) speaking region. It is also called as the Venice of the North. The historic city center is a prominent World Heritage Site of UNESCO. It also seats the College of Europe which is an elite institution for European studies. My visit to Bruges is part of my second European trip this year.
So what did I do in Bruges? Check out the photos below: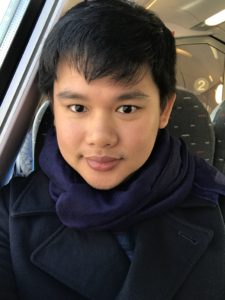 It all started with a train ride. Of course, I wouldn't miss having my train selfie. I love the weather in Europe in general. It brings out the glow in my skin. How I wish it's always like this.
There's so much to see in Bruges. From museums, to cafe and to Churches. You name it, the city has it!
I had a stopover in Chips&Ice. It's a Belgian cafe that serves one of the best hot Belgian fries and special waffles.
I started off with Hot Belgian Chocolate. It was so good. I paired it with Lotus Biscoff. It's the perfect drink for a cold winter day. It did not stop me from having a large serving of Belgian Fries. Did you know that French fries originated in Belgium and not in France?
I then ordered Gaufre de Bruxelles for dessert. I love strawberries so I decided to use that as topping. The waffle is crispy and not oily. It was properly dusted with sugar. I would have wanted it with whipped cream but it's too much sugar for me!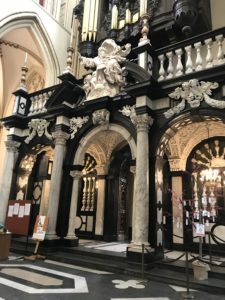 I visited Sint-Salvatorskathedraal & Schatkamer. It was a very nice Cathedral. I have visited other Churches too but this one stood out the most for me.
There are different Christmas Markets in Brugges. I did some window shopping. Too bad it was raining. I could have explored more.
You can also be a king or queen for a day in Historium Brugge. Who sits in the iron throne? Hmmm… well it's me!
If you're adventurous enough, you can also try the Torture Museum Oude Steen.
Just by walking in Bruges, it makes me beam with a huge smile. It's a very serene place and it's a perfect place for a date in my opinion. It's also a good place for families and friends.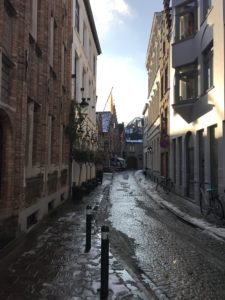 Here are some more miscellaneous pictures:
I'll definitely go back to Bruges. It's one of my favorite cities in Europe and it's definitely blog worthy!
Check out my other European related articles:
Till my next European Trip! Watch this space for more updates.
The Tennis Foodie 🙂