It has been a really productive year for The Tennis Foodie. As I mentioned before, The Tennis Foodie was born out of love and passion for Food, Tennis, Fashion and Travel.
Few weeks ago, The Tennis Foodie turned ONE. It wasn't easy. I had a lot of downs (challenges) in my year and it have learned a lot from it. I had several ups (accolades) as well and it inspires me to work harder and smarter for next year. Definitely, it was a very challenging pilot year for me but I was able to pull it through. I'm really excited on what's in store for me in the year 2018. So far, I published 105 articles and counting. I was able to handle more than 20 brands and covered more than 75 restaurants all over the world. This will be my last post for 2017.
Here are some quick website statistics below (as of December 30, 2017):
2016 World Ranking: 14,083,086
2017 World Ranking:      505,584
Won Top 50 Gastronomy Blogs. I was ranked #19.
Featured in Manila Bazaars as one of the Top Food Bloggers in the Philippines.
Social Media Statistics (as of December 30, 2017):
Facebook Likes (Official Page): 1705
Twitter Followers: 1260
Instagram Followers: 2274
Pinterest Followers: 327
Google+ Followers: 264
I rarely use Pinterest and Google+ but I'm planning to explore it next year especially the former as I heard it really drives traffic to the website. I'm really building on my Instagram and Facebook Official Page as it's the most common platforms currently used.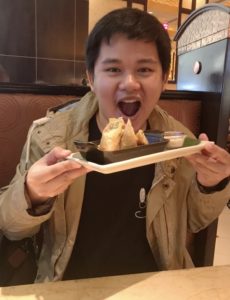 This year, I was able to travel to 15 countries. I don't think I'll be able to repeat this again ever but I won't stop believing that I'll be able to do so. 2017 is definitely my travel year!
The Tennis Foodie Travels
Hong Kong
Taiwan
France
Vatican City
Sweden
Denmark
Hungary
Norway
In terms of tennis, I think I did well in the doubles discipline but in singles, I continued to struggle for two seasons now because of injuries but I'm slowly taking some baby steps. I performed better in my last few events and I hope I can really rebound next year. I got three sponsors and I'm really happy about it. Vollaix has been really amazing this year and I'm really happy with my new kits.
On the healthier side, I lost a lot of weight with the help of Lunchbox Diet. I had a 60 days challenge. During the whole duration of the program, I was able to lose 26 lbs (approx 12 kgs) for 8 weeks. Not bad from a foodie who loves to eat and dine out. I'm planning to continue it next year.
Watch out for more prizes / raffle for next year. It will be a bigger gastronomic and tennis adventures next year. I'm just excited on what the new year will bring for The Tennis Foodie. Thank you for being part of my journey. The feedback that I get from my posts really helped me hone my writing skills. I really appreciate every comment and praise on each article. I really want to thank everyone from the bottom of my heart.
For future collaborations / partnerships, please see the links below:
Website: https://thetennisfoodie.com
Twitter: damian_emman
Facebook: The Tennis Foodie
Instagram: emmandamian
Google+: Emmanuel Damian
Pinterest: damian_emman
Email: thetennisfoodie@gmail.com
From the bottom of my heart, thank you all for supporting The Tennis Foodie. I hope you'll all check out my future blog posts and features. Happy Gastronomic and Tennis Adventure!
The Tennis Foodie 🙂