It was my first time in Dubai. I was not just eager to try the local cuisine at United Arab Emirates but also discover other international gastronomy. Mina, a friend of mine, took me to Al Amoor Express. It was my first time to try Egyptian cuisine. Was it good? Check out below!
Related Post: The Cheesecake Factory Dubai Food Review
The ambiance in Al Amoor Express was very inviting. The open kitchen is visible to the diners and you can ensure that the food served are freshly made. They also have courteous staff that is willing to assist you with your orders. During my visit I ordered the following:
Macaroni with Bechamel Pasta was my first main course. It was very heavy in flavors! Good thing Mina helped me finished it. Sharing a food with a friend makes your dining experience more fun! I'll grade it as HIT.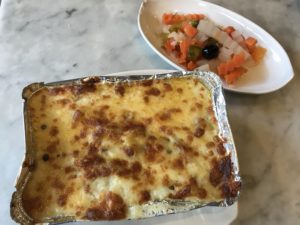 Mixed Meat Pie was our second main course. It may not look very appetizing but it was packed with proteins and savor flavors. It is composed of chicken as main meat, pastrami and hotdog as sausages. It is very heavy and not too oily. I really love the balance of flavors on this pie. I'll give it an ACE.
Rice with milk and nuts was our dessert of choice. It was milky and fruity/nutty in flavor. Not too sweet too! I'll give it a HIT.
Related Post: Cave: Trendy Wine Bar at Conrad Dubai
Overall, I was really happy to have my first Egyptian food experience. I really want to thank Mina for showing me this wonderful place. I'll definitely come back to eat here again!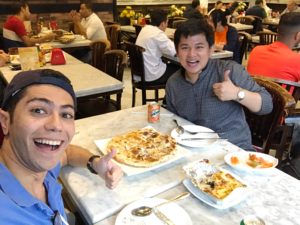 Al Amoor Express is located at Next to Al Ansari Exchange, Near Mall of the Emirates, Al Barsha, Dubai, United Arab Emirates. It is open from 7:30 AM to 2:00 AM.