Filipino-Mexican cuisine is really getting a lot of buzz the last few months in the metro. Last weekend, I visited Gorda Filmex Cuisine for the first time. Upon entering the vicinity, you'll be amazed with the NYC themed sliding steel door. It sets a very masculine vibe. The restaurant is well ventilated and well lighted.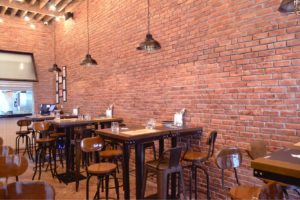 I was very fortunate to sit down with Jessica Angeles, the assistant head chef and one of the co-founders of Gorda. The restaurant is family owned and run by the Angeles siblings. The name "Gorda" got its inspiration from their mother which literally means big lady in Mexican.
Here are some of the best items that I tried during my visit:
I started with my favorite appetizer – Mama's Nachos. It was topped with trio local keso, ensalada, spiced beef estofado and a dash of jalapeno atchara for that spicy kick. It was garnished with spiced lemon for that citrusy flavor. It's really cheesy which is a big plus for me.
I tried their Trio Fajitas next. It was good and very well cooked. The alfalfa (I'm a big fan!) also makes it a bit refreshing. It is paired with Corn Tortilla, Homemade Crema, Ensalada and Local Keso.
Calamari is actually an appetizer but I got intrigue with its presentation so I tried it after Trio Fajitas. It is squid frito dusted with local spice. It is best paired with pinakurat and homemade spicy crema.
The Beef Tacos will probably be the best dish during my visit. Apart from its bite size, it is also well plated. The taste is also superb. You get to have that "beef tapsilog breakfast" taste in every bite. This is a very well loved dish that will surely give you a slice of home.
Apart from the restaurant, they also have a bar that boasts original and signature cocktail mixes. I personally tried Horchata Morena which is a mixed of freshly roasted grains, whiskey and rhum. It is garnished with cinnamon bark.
Overall, Gorda Filmex-Urban Cuisine is in top of my list. It captured my heart immediately the moment I stepped in the restaurant. They have a very entertaining staff, excellent ambiance and lastly, a very superb selection of food. I'll definitely recommend it to my friends and family.
Gorda Filmex-Urban Cuisine is located at 2/F  Retail 6, Uptown Parade, 38th Street cor 9th Avenue, Fort Bonifacio, Taguig City. They are open 11 AM – 11 PM every Monday, Tuesday & Sunday while 11 AM – 2 AM every Wednesday to Saturday. You can also contact them at +632-777-1929.
You can reach them through their social media pages:
Facebook: GordaPH
Instagram: gordaph
The verdict: It's an ACE!
The Tennis Foodie's favorite: Mama's Nachos, Beef Tacos, Horchata Morena