Last weekend, I got a chance to visit and dine at Carnivale, a newly built restaurant in S Maison at Conrad Manila. Chef Mikel Zaguirre came up with one of the most whimsical and innovative eatery around the metro. Upon entering the restaurant, you'll see a vibrant space resembling a big carousel. The walls are painted with fun and quirky images of circus and other related caricatures.
I personally met the Carnivale sous chef, Patrick Ortega, who has previously worked in Dean & DeLuca and Gallery Vask along with Ojie Ocampo, the Marketing Director of Carnivale. They guided me through the appetizers, main courses and up to my favorite part of the meal – desserts. Carnivale takes you to a gastronomic adventure with a twist: fun and out of the box fusion meals you can't imagine that will work together.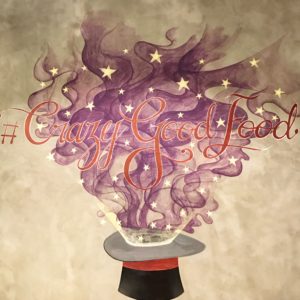 Here are some of the best selling food choices I tried during my visit:
For my appetizer, I tried the French Onion Croquettas first. One thing I noticed here is the contrast of textures and combination of different elements in one dish. Once you bite the crispy tri-color nacho chips crust, you'll get a very delicate center. The french onion jam, red onion mayonnaise and gratinated gruyere cheese makes it extra special.
I also tried the Salted Egg Fries which goes through a rigorous twice-fried process. It is seasoned with freshly cracker pepper, salted egg powder and other special condiments. This is one of my personal favorites.
For kids and young at heart, the Chicken and Pancake will definitely be the perfect choice. Crispy chicken with very delicate peach and pistachio souffle pancakes and some garnishes on the side makes it one of the staple food at Carnivale. The pancakes are so delicate that it melts in your mouth once you eat it.
The Gravlax, one of the burgers I tried, is composed of butter toasted squid ink brioche bun with house special cured salmon gravlax. It also includes cream cheese & smoke salmon mousse, fresh rocket leaves, pickled red onion, honey mustard glaze and onion tuile. I'm not a big fan of squid ink but this one got the right flavor and it worked well with the salmon. Not too fishy for me! This one is what I can recommend for diet conscious individuals.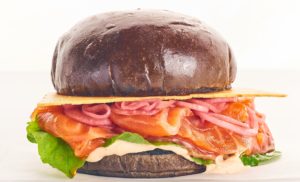 I also tried Wangus, one of the best sellers at Carnivale. It's a sous vide angus beef streaked with wagyu fat in a butter toasted brioche bun. It also has two hour tomato confit and gratinated yellow cheddar & onion relish.
Apart from the mains and appetizers, they also serve innovative desserts. My personal favorite will be the Ferrero burger. It is a sandwich composed of a generous amount of  Kahlua ganache, hazelnut ice cream, dark chocolate KitKat bits, Kracklin and some almond flakes. It is dusted off with edible gold powder that makes it a royal dessert. I am very impress on how they combined different flavors to come up with a dessert that taste like Ferrero. It's a gold star for me!
The place is well ventilated and well lighted. One plus point for me is that you can customize your food depending on your diet restrictions and needs. They make it to the point that customers are satisfied while proper nutrition is also taken into consideration. This is one restaurant where I'll come back and enjoy dining with my family.
Carnivale is located at 2/F S Maison, Conrad Manila, Seaside Boulevard corner Coral Way, Mall of Asia Complex, Pasay City. They are open everyday from  11 AM – 10 PM.
You can reach them through their social media pages:
Facebook: CarnivalePhilippines
Instagram: carnivale_ph
The verdict: It's an ACE! Gold star for Ferrero Burger!
The Tennis Foodie's favorite: Twice Fried Salted Eggs Fries, Gravlax, Ferrero Burger