I have attended several weddings before. It's always an emotional event where two hearts meet. One thing I always look forward to is the wedding cake apart from the "I do" from the newlywed couple.
It was my brother's wedding last October 16, 2017 and I was tasked to take care of the wedding cake. It was an easy decision to hand it over to Kabisera. Apart from being a Filipino restaurant, they also do specialty cakes for any occasions.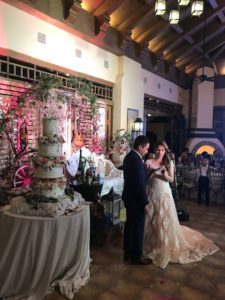 Related Article – Kabisera: Where Good Friends Dine
I ordered a four-layer Bohemian inspired cake. During conceptualization, I wanted some fresh flowers and sparkling shimmering splendid on the cake. It gives some magical feeling to it don't you think? Kidding aside, I just want it to be fresh and as simple as possible. I chose white as the base color, few fresh flowers and intricately crafted design on the cake.
Fresh blush pink and white roses with wax flowers were added on each layer to make it refreshing and blooming. The lemon vanilla layer was covered with fondant. It was later on accented with silver and gold edible pearls and sugar lace.
I really love this wedding cake. I really want the same design but with different choice of flowers. It was really exquisite, royal and elegant. Thank you Kabisera for making my brother's wedding extra special!
PS: Apart from wedding cakes, they also do fun cupcakes for souvenirs.
Kabisera is located at Unit 1 ELN Centro, Paninsingin, Tambo, Lipa City. They are open from 11:00 AM to 8:30 PM everyday. You can also contact them at (043) 7064405.
You can reach them through their social media pages:
Facebook: Kabisera Restaurant
Instagram: dinesakabisera
The verdict: It's an ACE!