Freshness in every sip take center stage as Fruit Burst comes your way. Fruit Burst introduces their latest lineup of different fruit drinks. They provide you refreshing drinks that you can enjoy with your friends and family.
The Fruit Burst with real fruit powder extracts boasts several unique refreshing alternative Filipino flavors to chose from:
Here are some of my favorite flavors:
Lychee is the perfect juice for a sunny day. I asked my friends to try it and they also had the same comments. They really like the right balance of sweetness of the juice. It's surely a winner for all ages.
Blue Lemonade is the perfect juice to be paired with your afternoon snacks. You'll never be blue on this juice as it will surely capture your heart.
Pineapple has always been one of my favorites. Their pineapple version did not disappoint. It's always one of the best flavors for any occassion.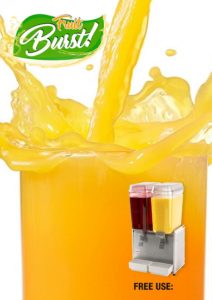 It is ideal for food service industry and restaurant businesses. To get your mornings started on a positive note, try Fruit Burst now!
The Tennis Foodie's verdict: HIT
For orders, you may contact CPE Foods – Consolidated Packaging Enterprises.
Website: http://www.cpefoods.com/
Facebook: CPE FOODS – Consolidated Packaging Enterprises