Spiffy's Grove turned one last June 17, 2017. It featured special pop-up stores for the day. It was a fun filled event attended by friends, former colleagues and guests around the village. As previously stated, the restaurant is ventilated and well-lighted. All of the furniture and store signs are customized or do-it-yourself from locally sourced materials such us unused pallet.
Here are some of the new items I tried during my visit:
One thing that interests me in the new menu was the Venezuelan Pastillitos. It was pan fried to perfection. This was my first time to eat a dish from Venezuela which makes it so fun! It did not disappoint and it was so good.
Next up, I tried their Homemade Chips and Dips.It was crispy and not oily. It also comes with a catsup and mayonnaise.
Lastly, I tried their Pork and Green Apple Dumplings. It didn't disappoint and it was the highlight of my day.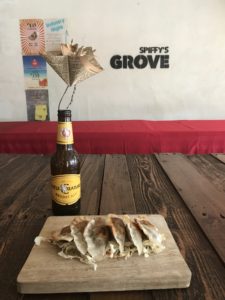 Spiffy's Grove is located at 412 El Grande Avenue, BF Homes, Parañaque. They are open everyday from 3 PM – 12 MN. You may contact them at +632-501-7765.
You can reach them through their social media pages:
Facebook: Spiffy's Grove
Instagram: spiffysgrove
The verdict: It's a HIT!
The Tennis Foodie's favorite: Pork and Green Apple Dumplings, Venezuelan Pastillitos