Auro Chocolate is a locally founded bean-to-bar chocolate company that buys beans at higher value to inspire quality and gives farmers the opportunity to improve their standard of living. The single-origin chocolate bars and products (baking chocolates) are made from finest cacao beans sourced from Davao, Philippines.
The name was derived from Au, the chemical symbol for gold in the periodic table combined with Oro (Au+ Oro = Auro), meaning gold in Spanish, represents a new way of looking at an old tradition which the company aims to represent. The goal of the company is to enable sustainable partnerships, empower farmers and provide better quality chocolates with competitive prices.
I had the privilege to try some of the chocolates from Auro. It was sent to me by JC Alarcon from Lalamove. Lalamove is a logistics platform that caters to local deliveries anywhere in the Philippines. You get a match within 12 seconds and your delivery will be fulfilled within 55 minutes, door-to-door. Lalamove, a company which originated in Hong Kong,  is an application developed by Huolala Global Investment Limited, and is available online, Apple Appstore and Google's Play store.
Here's my assessment on each chocolates:
Let's start with the sweetest of them all, the 42% Dark Chocolate. For me, it's my second favorite among the four variants. It was sweet, fruity in flavor and a bit flowery. Kids would really appreciate this variant as it is not so bitter. It's a HIT for me.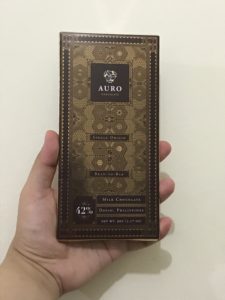 Next up is the 55% Dark Chocolate. It's more bitter than the 42% but I think it's also the right amount of cocoa for me. Less fruity and flowery compared to 42% variant. It's a HIT for me.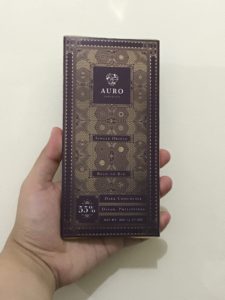 The 64% Dark Chocolate will be my most favorite among the four variants. It has the right amount of darkness but has a sweet kick to it. I also love its packaging. Wouldn't you be enticed? I gave it an ACE.
Lastly, for more adventurous palate like me, you would definitely enjoy the 77% Dark Chocolate. It contains 77% Dark Chocolate and 23% other ingredients. Well, it's bitter yet very rich and flavor. It's perfect as an ingredient for champorado. I'll give it a HIT.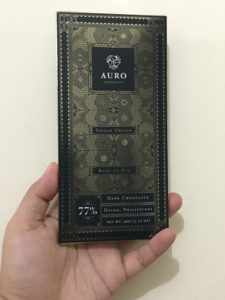 One thing I really love about Auro Chocolate is their packaging. I believe its caliber is world class and can compete to other couverture chocolates.
To know more about the brand, you may visit their social media sites:
Facebook: Auro Chocolate
Instagram: aurochocolate
Website: http://www.aurochocolate.com/