I was invited to a special degustación last Tuesday, January 16, 2018 at ¡Oye! Tapas and Grill. An innovative infused taste of flavorful Spanish culinary heritage and familiar savory Filipino accents awaited me. Oye is actually from the same group which brought us XO46 Heritage Bistro and Arroz Ecija. Andrew Masigan of the Advent Hospitality Group is one of the brains behind this new concept.
The recently opened ¡Oye! Tapas and Grill seeks to infuse a youthful vibe to the Spanish-Filipino cuisine, making it more accessible to the food enthusiasts and foodies like me. The restaurant is spearheaded by three world class chefs: Chef Joseba Sola, Chef Juan Montel and Chef Tanya Dizon.
During the special degustación, I tried the following dishes: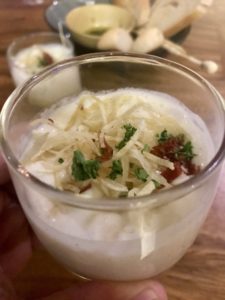 Huevo Trufado con Patatas y Jamon (Truffled Egg, Potato and Ham) was the first appetizer to be served during the event. I love the crispiness of the potatoes while it complements the juiciness of the ham and the delicate texture of the truffled egg. My verdict? It was an ACE for me.
Next up was Ensalada de Sandia, Quezo Azul y Jamon (Watermelon with Jamon and Blue Cheese). It was a very refreshing appetizer! The watermelon works really well with Jamon although I'm not really a fan of Blue Cheese's sharp taste. I would give it a HIT.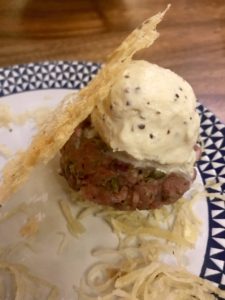 My most favorite dish that night was the Steak Tartare con Helado de Mostaza (Steak Tartare with Mustard Ice Cream). I gave it an ACE because it was a very innovative move to make the mustard sauce as an ice cream to complement the steak tartare. It also balances the overall flavor. The crispy parmesan gives a different texture to both the ice cream and tartare. It's an explosion of goodness in every bite.
Imagine eating a paella with spaghetti. I think that was the concept in Fideua de Mariscos (Spanish Spaghetti Cooked in a Rich Seafood Broth) wherein instead of rice, they use pasta as source of carbohydrates. Throw in some good clams and other seafood. It produces a yummy gastronomy.I would give this a HIT.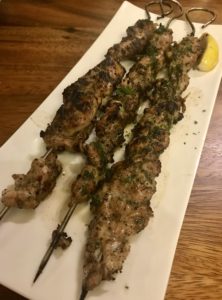 Pollo ala Brasa con Salsa de Pimienta (Chicken Barbeque with Sweet Peppercorn Sauce) was also one of my favorites. It was perfectly cooked and dashed with chimichurri sauce.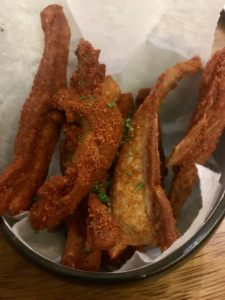 Chicharon del Veedor was also served. I love the crispiness of this dish. It was not oily and perfectly seasoned. My score? A HIT for me!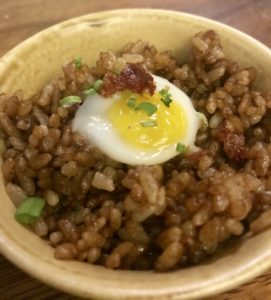 Of course, the meal will not be complete without the OYE Fried Rice. It was topped with fresh quail egg cooked to perfection. I'm not a fan of rice but it's really tasty. It's an ACE for me.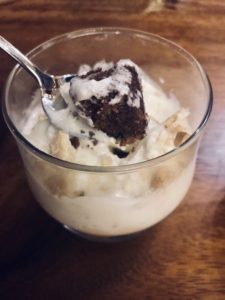 I always save the best for last. Of course, a lovely dessert such as Leche con Galletas would really complete my night. I love how they incorporated a foamy milk layer with chewy brownies. It was topped by crushed milk cookies (like Marie from our childhood) which makes it more special. I'm a sweet tooth and this definitely satisfied my cravings. My verdict? An ACE of course! No doubt about it.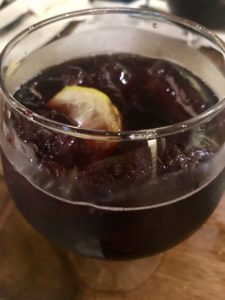 My choice of drink apart from Sangria? Well, I had the Calimotxo which is actually famous for teenagers because of the soda content (Cola). It's a HIT for me.
Overall, I really enjoyed the Spanish-Filipino cuisine at ¡Oye! Tapas and Grill. I'll definitely come back and try their other offerings.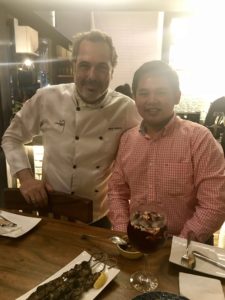 ¡Oye! Tapas and Grill  is located at Uptown Mall, Bonifacio Global City, Philippines. To know more about the restaurant, you may follow them at the following social media accounts:
Instagram: oyetapasandgrill
Facebook: Oye Tapas and Grill