When you're always on the go, it can sometimes be exhausting leading to loss of productivity. You have no time to prepare for your own food especially a well balanced diet. I recently discovered a new restaurant that will solve this problem. Wok2Go specializes with fresh, fast and fun meals that will surely produce a great gastronomic experience.
The storefront is very unique from other surrounding restaurants. The catchy mural in the bus-like open kitchen area was designed by Dee Jae Paeste. The design conveys what the restaurant owners would like to say to its customers: Eat Good, Feel Good.
You can customize your own Wok2Go fried rice depending on your cravings. Here are the simple steps:
Step 1: Select your sauce: you can select from their signature flavors such as Sinigang (Philippines) and Pepper (Hongkong)
Step 2: Select your fiber. It can be mixed vegetables, rice noodles, red and white rice.
Step 3: Choose your meat. It can be pork, beef, chicken, shrimp or squid.
You can also include add ons like fried tofu and broccoli.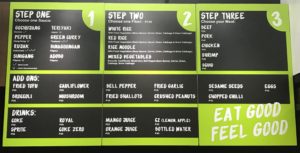 Here are some of the combinations I tried with the help of Mr. Kim Garcia:
The goal of the restaurant is to make you eat and feel good. It also caters to busy professionals like me as it gives quality hot meals in just few minutes!
Wok2Go is located at 2F Venice Piazza Mall, McKinley Hill, Taguig City, Philippines. They are open everyday from 11 AM to 11 PM.
You can reach them through their social media pages:
Facebook: Wok2GoPH
Instagram: wok2go_ph
The verdict: It's an ACE!
The Tennis Foodie's favorite: Sinigang Red Rice with Fried Tofu and Beef Pepper Mixed Vegetables Rice